The ultimate beauty and former pro golfer Paige Spiranac has been one of the most talked about social media stars in the sports world. The golf influencer, 29, has lit up Instagram with her skills on the fairway, as well as glam bikini photoshoots. Blessed with stunning looks as well as talent, it's no wonder a host of companies are queuing up to have her peddle their products.
With over 3.6 million followers on Instagram and eye-catching photos and updates on her work, she was named "World's Sexiest Woman" earlier this year by Maxim magazine. But the people's favorite recently made sexist comments about men for which she was heavily criticized online.
Also Read: 'Wearing leggings to play golf isn't p*rn': World's Sexist Woman Paige Spiranac Gets Called Out For Ridiculous Golf Outfits, Gives Savage Reply
Paige Spiranac's reply after seeing the most followed golfers' list
The 29-year-old social media personality has sent fans bonkers many times with her revealing clothes and stunning looks. A few days ago, Paige Spiranac gave a funny answer to her reported online popularity by Golf Magic, which was at the top of the male-dominated list that golfers had the most followers on Instagram.
The golfer tweeted: "This just in. Men like golf and bo*bs." In the most recent indication of her immense popularity, Paige Spiranac was placed ahead of well-known athletes like Tiger Woods and Rory McIlroy. The stunning star was also the only female on the list, thanks to Spiranac's recent growth in online popularity. While her response was brief and humorous, many fans think that the comment was 'sexist'.
Also Read: World's Sexiest Woman Alive, Paige Spiranac – Who Literally Earns Millions By Romanticizing Impossible Beauty Standards, Now Ironically Wants To Talk About Body-Shaming
Paige Spiranac is seemingly way ahead of her competitors
While the golfer's popularity is spiking high day by day, she is always found around controversies for the clothing choices she made while playing golf. Reportedly, Spiranac also makes more money with each Instagram post than her competitors in golf, thanks to her large following.
After entering the scene in the late 1990s and winning a number of tournaments in the early years of his career, Spiranac swiftly rose to become one of golf's most well-known figures. The year 2022 has been very crucial for Spiranac. She finally received attention from mainstream media, thanks to Maxim magazine. Moreover, the influencer podcast Playing A Round with Paige Spiranac has also been racking up a huge number of listeners.
Also Read: Meet Steven Tinoco – Millionaire Sports Trainer Paige Spiranac – World's Sexiest Woman Was Married To, Made Her Say "I'll never get married ever again"
Paige Spiranac boasts her 'b**bs are out' as she shows off extreme cleavage
The former pro golfer, 29, shared a recent video to her 3.6 million followers on Instagram, where she decided to play a hole at Red Rocks County Club in Colorado. Spiranac smiles at the camera as she walks on the course, wearing a gray polo crop top that barely contained her cleavage and a simple pair of black leggings with Nike shoes. She wrote: "You're gonna be so proud of me because your girl is wearing a polo today. Disregard that it's half a shirt and my b**bs are out but, I'm wearing a collar."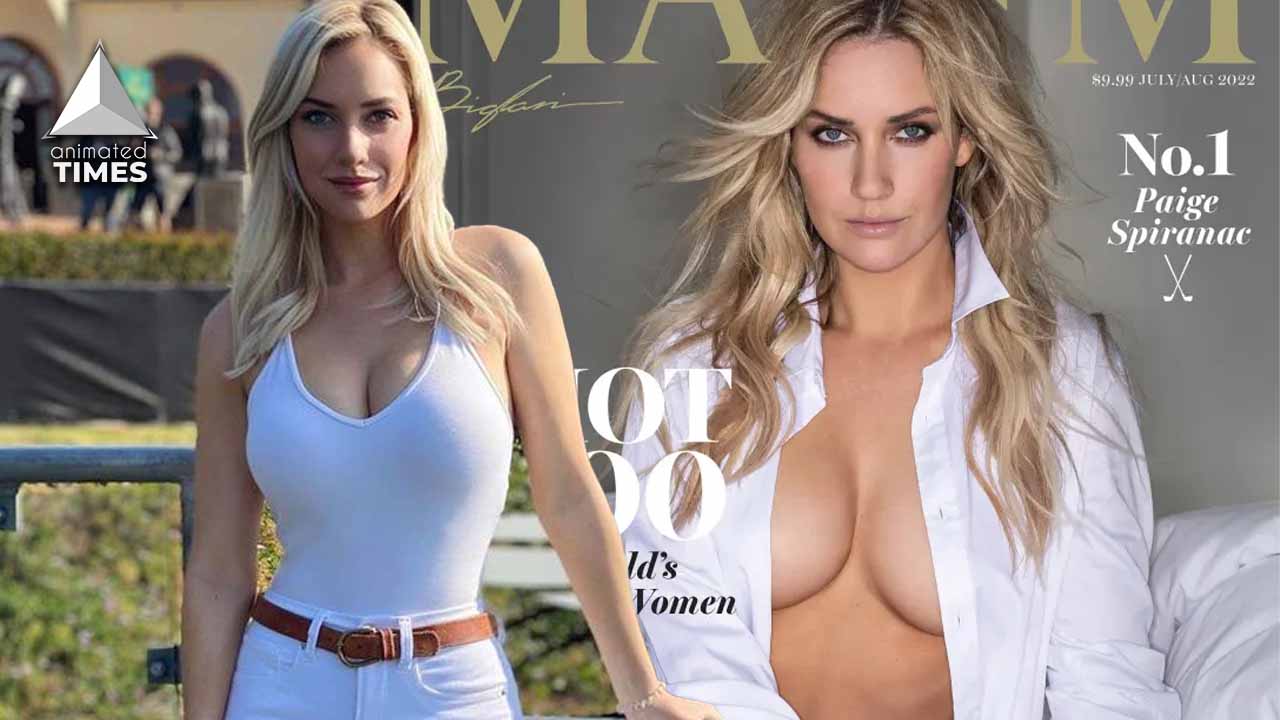 Unfortunately, Spiranac doesn't get a clean shot while on the course, and even poked fun at how she smiles each time she hits the ball, despite getting a bogey at the end. "Instagram is so fake, I'm fake 'cause I'm pulling this off as if that was a good shot. Just overall, not good," she said. The Golf beauty uses the platform to post tips and tutorials – often while wearing clothing that probably wouldn't go down too well at the Ryder Cup.
Source: Twitter