A new Morbius trailer just gave clues that tie Jared Leto's film to The Amazing Spider-Man, Venom, and the MCU.  The movie has assembled a stellar cast which along with Jared Leto includes Matt Smith, Adria Arjona, Al Madrigal, Jared Harris, Tyrese Gibson, and Michael Keaton who is reprising his role as the Vulture from Spider-Man: Homecoming.
Morbius focuses on Dr. Michael Morbius; a scientist with a rare blood disorder who is desperate to seek a cure before he dies. After discovering a dangerous treatment that utilizes a form of vampirism, Morbius seems to be healed but had imbued with superhuman abilities which are also saddled with a thirst for blood, and the authorities are on the hunt for him. Though production on the film wrapped just before the Covid pandemic and that's why its release was put on hold since the theatres were closed during the time and the studio decided to prioritize Venom: Let There Be Carnage's release.
And now that there are just two months left until the film's release, Sony has debuted a new Morbius trailer, The video gives us a better look at Jared's superhero film and there are a number of references and clues which tie the MCU, Venom and The Amazing Spider-Man together. Check out the trailer here:
After the first trailer did hint at some connections to the MCU and Sam Raimi's Spider-Man trilogy with the reveal of Keaton's Vulture appearing and some artwork indicative of the first Spider-Man movies, the new video seems to be expanding the worlds even more.
The trailer shows a lot of sweeping aerial shots of NYC to establish the setting of the film with one shot featuring an Oscorp building. While the design for the some doesn't fit previous depictions of the company's headquarters, the design of the company's logo is identical to the one seen in The Amazing Spider-Man 2 which does connect the film to Marc Webb's universe.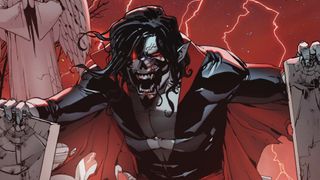 The connection between the three universes remains unclear and the new Morbius trailer is just another piece of evidence of the two studios mysteriously handling the films. And the post-credits for Venom: Let There Be Carnage did indicate a merging of the former two franchises.
Looks like only the film can answer the question when Morbius hits theatres on January 28, 2022.
Source: Sony