The 42-year-old reality star Kim Kardashian opened up about everything from a possible fourth marriage to having more children on Gwyneth Paltrow's Goop podcast. More than that, she confesses that she likes using less makeup now that she focuses on skincare. In terms of skincare and her style, she claimed to have done everything.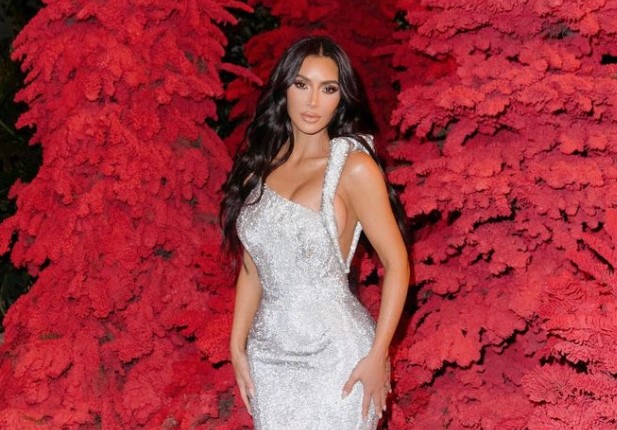 Aside from being a reality star, she is also the co-founder of the fashion brand SKIMS, which has helped her earn high-profile status. Besides that, she owns two skincare brands, SKKN by Kim and KKW Beauty, which she closed down after her separation from Kanye West due to changes in her initials. She is indeed going through many ups and downs in her life, including going through her final divorce settlement with Kanye West and the co-parenting part of her life, but she never compromises on her style and appearance.
Also Read: "There's nothing that I'd judge": Momager of $2B Kardashian Empire Kris Jenner Wants Society To Shut Up For Judging Her Kids Getting Pregnant Out of Wedlock
It's Kim Kardashian's Goal To Look Her Best At All Times
42-year-old Kim Kardashian visited Gwyneth Paltrow at Goop HQ, where they talked about Kardashian's adolescent years and how they shaped her into the woman she is today. In addition to asking how she manages social media with her children, Paltrow asked how her mornings and evenings look at the home and if she views herself as a future wife.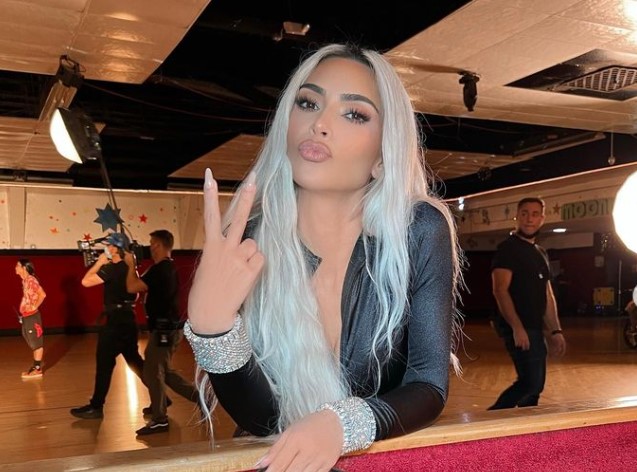 When Kim K was asked about her style, and makeup looks on Gwyneth Paltrow's Goop podcast, she said,
"I thought that I have learned so much in my journey, and I have had the best facialists, the best aesthetician, tried every laser."
She added,
"I've tried everything … and I wanted to bottle that up, take everything I've learned, work with my favorite aesthetician, and develop products that are the next level."
The Kardashians star revealed that she focused more on skincare during the lockdown and toned down her make-up. Having been forced to stay at home during the COVID-19 pandemic, the reality TV star has revealed that her use of cosmetics has changed since then, and she feels more confident wearing less makeup now.
Furthermore, Kim K explained that instead of covering up her imperfections, she focused on improving her skin. She said,
"I don't wear as much make-up as I did now that I've got my skin [improved]. I think that started in quarantine and just like having no where to go and really developing something [a skincare routine] that made me feel really confident. I love make-up, I love the process .. [But] I've started to feel that way [wanting to strip my make-up back] because I just wasn't like that."

'I love the process when I'm out but for my daily stuff I don't care. I don't care if I'm not in make-up, I don't care. Like I don't have to have my hair and make-up done to film my [TV] show.'
Besides launching a skincare line, Kim K also mentioned that she wanted to create a range that actually works based on her years of experience.
Also Read: 'Kim feels like it was a long time coming": After Leeching Off of Kanye West's Fame for Years, Kim Kardashian Reportedly Wanted To Divorce Him Since a Long Time
Kim Kardashian Did Not Spare Gwyneth Paltrow When It Came To Taking Selfies
During Gwyneth Paltrow's Goop podcast, Kim Kardashian got real discussing her life goals, but her appearance was only complete with a selfie. In the Goop offices, the social media queen snapped a pic of herself and Gwyneth Paltrow, 50, smiling brightly. While Paltrow grinned behind her, the selfie expert confidently extended her arm and held the phone to the camera.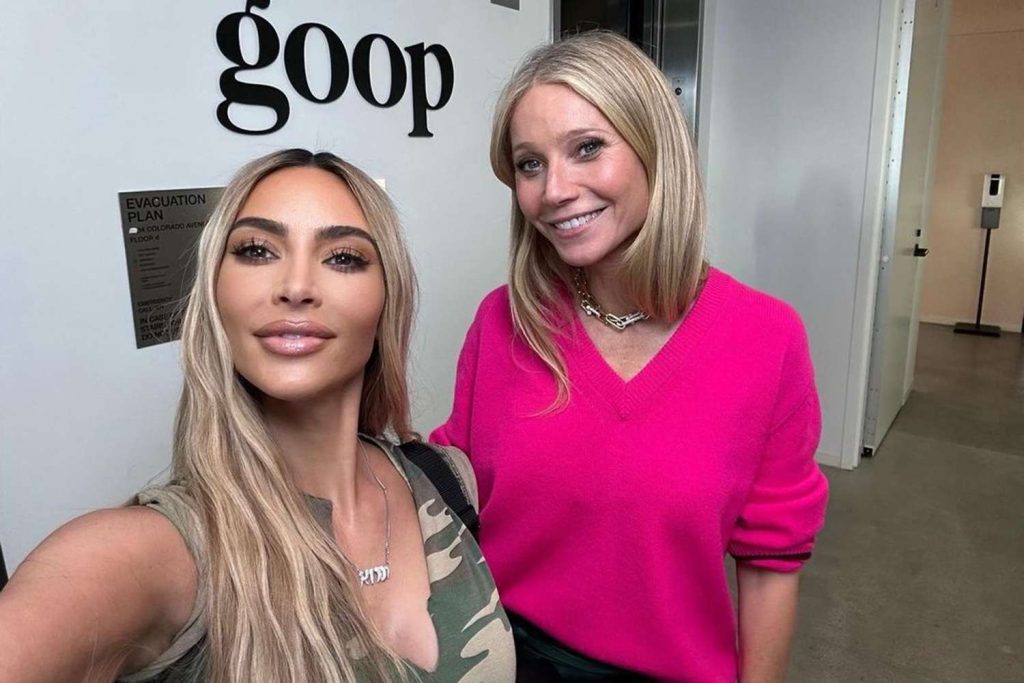 With highlighted hair cascading down in loose waves, Kim K looked stunning, with her flawless makeup accentuating her features. In addition to full lashes, earthy eye shadow, and a glossy lip, she wore a camo print tank top. With her blonde hair tumbling down sleek and straight, Paltrow was the picture of CEO sophistication in a hot pink sweater and chunky gold necklace.
Paltrow posted her selfie with Kim K on her Instagram handle, where throughout the caption, the Oscar winner and businesswoman raved about the reality star and being on her podcast.
She captioned it,
"@kimkardashian is fascinating to the world, we know this. For me she is fascinating because she challenges so many ideas of what a woman is supposed to be, and how she is supposed to look and behave while doing it. I loved getting to interview her for the @goop podcast and get into this and so much more. Link in bio to listen to the full episode."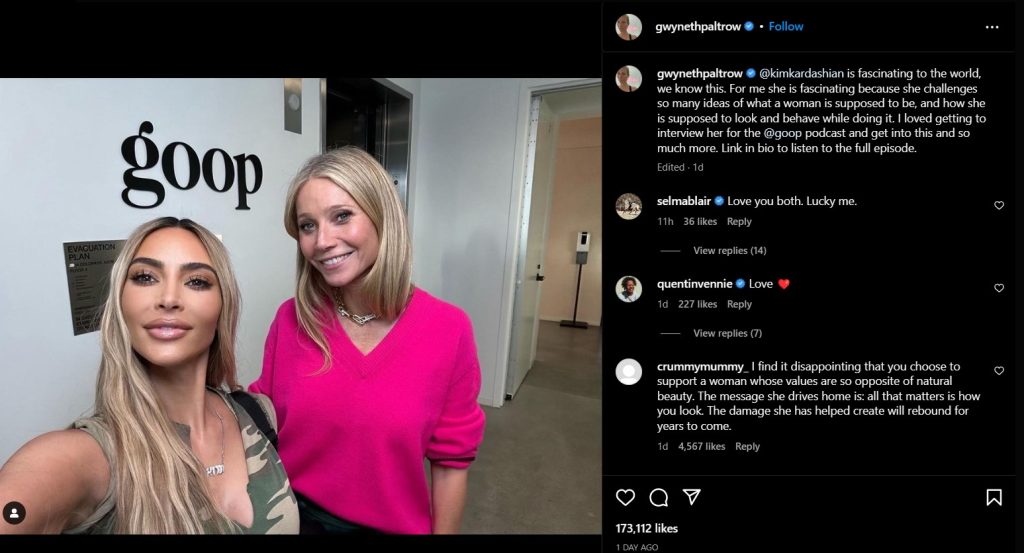 During the podcast, Kim K discussed her desire to remarry and whether she would consider having a fifth child. Also, she talked about changing up her routine as she started drinking coffee and alcohol at age 40, as she worked a lot and wanted to focus more on her life.
Also Read: "Absolutely. I have uniforms": Control Freak Kim Kardashian Has Inhuman Dress Code for Own Employees Because 'Her House is So Zen'
Source: Gwyneth Paltrow's GOOP Podcast