Spiderman suit now has Doctor Strange-styled web powers, revealed by Hot Toys. Here is everything that you need to know.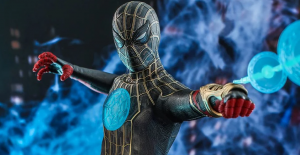 Hot Toys revealed a new look for the Spiderman super-suit with Doctor Strange-style web powers. The third MCU installment will encounter Tom Holland's return alongside Marisa Tomei, Zendaya, Hannibal Buress, Jacob Batalon, Angourie Rice, and Tony Revolori. This installment of the Marvel Cinematic Universe franchise will also include Benedict Cumberbatch's Dr. Stephen Strange following the loss of Tony Stark, aka Iron Man, a superhero character played by Robert Downey Jr.
While the plot details are still not confirmed yet, it is expected that the movie will include a return of Jamie Foxx from The Amazing Spiderman. The MCU fans might also get to see a return of Doctor Octopus from Sam Raimi's Spiderman. The movie is expected to be a part of the dimension created alongside WandaVision and Loki. It might explode with Doctor Strange in the Multiverse of Madness, which will arrive three months after Spiderman: No Way Home. While the makers have kept the lid of the storyline sealed, an intriguing glimpse has emerged very recently.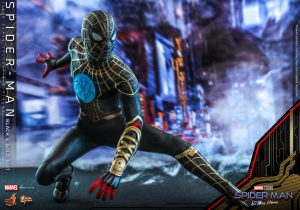 Hot Toys has revealed a new look of Spiderman suit in Spiderman: No Way Home just under six months of its anticipated arrival. The recent Facebook post by Hot Toys showed one of the suits to be featured in the film. As they call it "Black & Gold Suit," the image depicts and reflects Spiderman's new web powers as well. It looks akin to Doctor Strange's magic.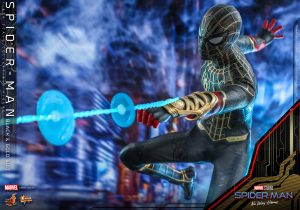 The level of secrecy that Spiderman: No Way Home has received is far more than that of any other MCU film. While the makers have still not technically confirmed Foxx or Molina's returns, the co-stars have confirmed it multiple times. Tobey Maguire reprises his theory about the MCU character's appearance in Venom. It evidently becomes one of the most mysterious outings of the franchise. Since MCU fans are excited for Spiderman: No Way Home's trailer premiere, the new super-suit look ignites the possibilities of the threequel in the future.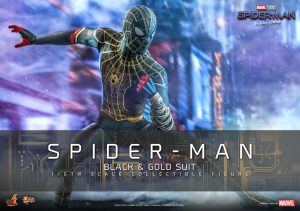 It has been expected that Cumberbatch's Strange would appear in No Way Home. Now that Hot Toy has revealed this new super-suit look that depicts Strange's magic, recent wildfires of theories are expected to hit the MCU fan base. It could be possible that Doctor Strange in Spiderman: No Way Home offers Holland's Spiderman some sort of help to fight a battle. It is also expected that there could possibly be multiple villains in the film. That is why Marvel Cinematic Universe and co-makers of the film crafted this new super-suit for Spiderman to combat the Multiverse Madness. This could even extend to a threequel in the coming future. The Spiderman: No Way Home will get its theatrical release on December 17 this year.