A British singer and composer, Elton John, who took to social media to celebrate his duet with Britney Spears, Hold Me Closer, has been chosen as Billboard readers' favorite song of the year in 2022. Surprisingly, the duo's hitmaker earned the top spot on Mediabase's hot adult contemporary chart. Having been through a tragic and challenging journey, Britney Spears made her comeback and returned to the top of the music world with renewed vigor.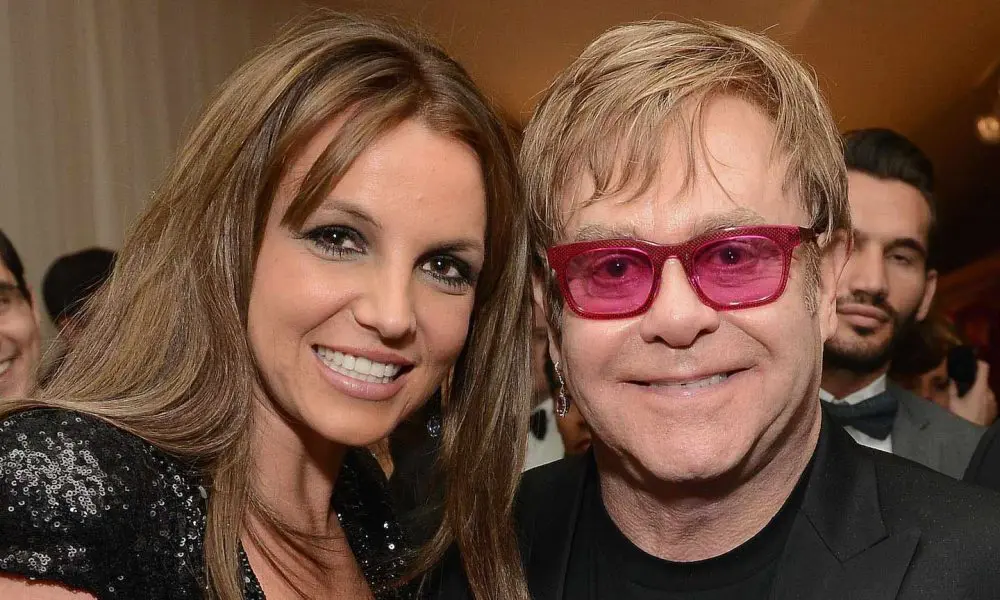 The pop sensation completed her 13-year conservatorship in November 2021 and could enjoy her hard-earned freedom for the first time. Last month, her father, Jamie Spears, scorned by the #FreeBritney movement online, reportedly spoke out for the first time in a decade after her conservatorship ended. There is also a news report that Jamie Spears, the singer's estranged father, may assist his ex-husband, Kevin Federline, in writing a book on fatherhood.
Also Read: "I struggle with self-esteem all the time": Britney Spears' Sister Confesses How the Pop Star Has Massively Affected Her Life in a Bad Way
Elton John Shows Gratitude For His Song's Success
As Billboard's reader poll ranked Hold Me Closer number one, Elton John thanked Britney Spears for her collaboration on the song. The Sacrifice singer took to Instagram to thank Spears and the Billboard fans for voting for their song, marking her comeback to music after conservatorship.
John captioned the post,
"An enormous thank you to @billboard, its readers, and all the fans of 'Hold Me Closer' who voted it their favorite song of 2022!!" he wrote in a heartfelt Instagram post. "And thank you @britneyspears for your talent and collaboration in making this happen and the incredible @thisiswatt [producer Watt] who shares this success! What an incredible way to kick off the year."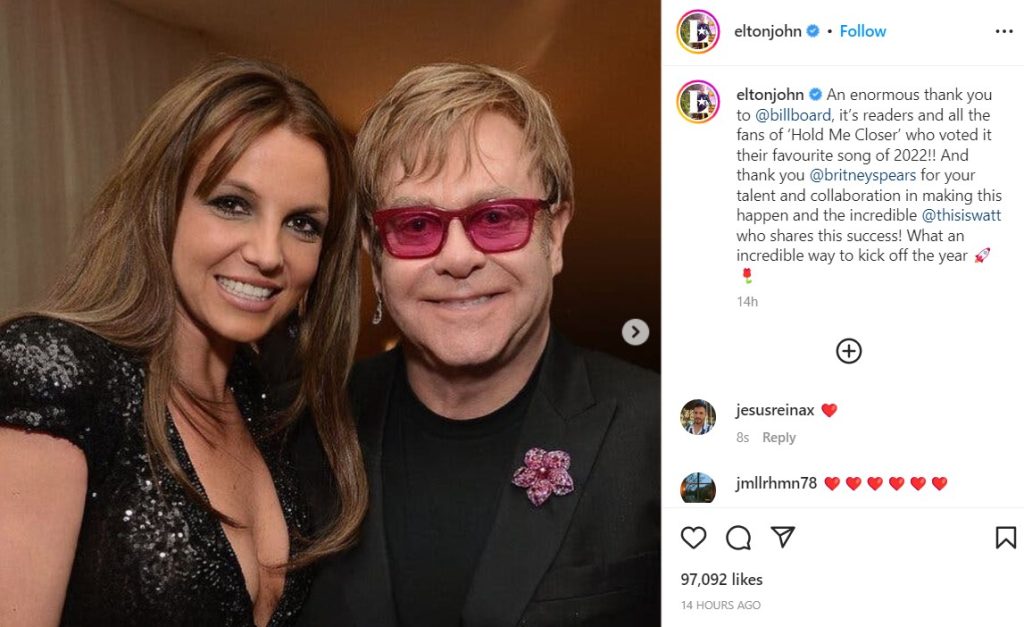 According to Billboard, the superstar achieved a second Top 10 hit of 2022 with his single Hold Me Closer, debuted at No. 6 on the Hot 100 in September.
Earlier, Elton John spoke with Zoe Ball on Radio 2's Breakfast Show and showed his support for Spears,
"If anyone needs to have an arm put around her and to get back to what she does, it's Britney. What I wanted to do when she completed (the song) was to enlighten everybody that this is one of the great pop stars of the world, one of the biggest stars in the world."
He continued,
"She needs to get back to that. She's had a horrific time that no one really should go through. So if this is the way to get her back to making another record – a Britney Spears record – then that's what I wanted (the song) to be."
John discussed Spears as a possible collaborator since he wished to remind everyone that she remains one of the world's greatest pop stars, and their song's success proved his statements.
Also Read: "I had ruined my whole life": Britney Spears' Sister and Sworn Enemy Jamie Lynn on Being Humiliated By Media for Getting Pregnant When She Was 16
Britney Spears's Ex-Husband Kevin Federline To Write A Book On Fatherhood
During an interview with Daily Mail, Jamie Spears, the Toxic singer's estranged father, expressed his desire to help Britney Spears' ex-husband, Kevin Federline, to write a book on fatherhood. Reports stated that Federline and Jamie Spears are speaking again after a rough patch in their relationship. The singer's ex-husband seems to be planning to destroy her reputation, as he will undoubtedly expose some shocking details about their marriage and parenting issues.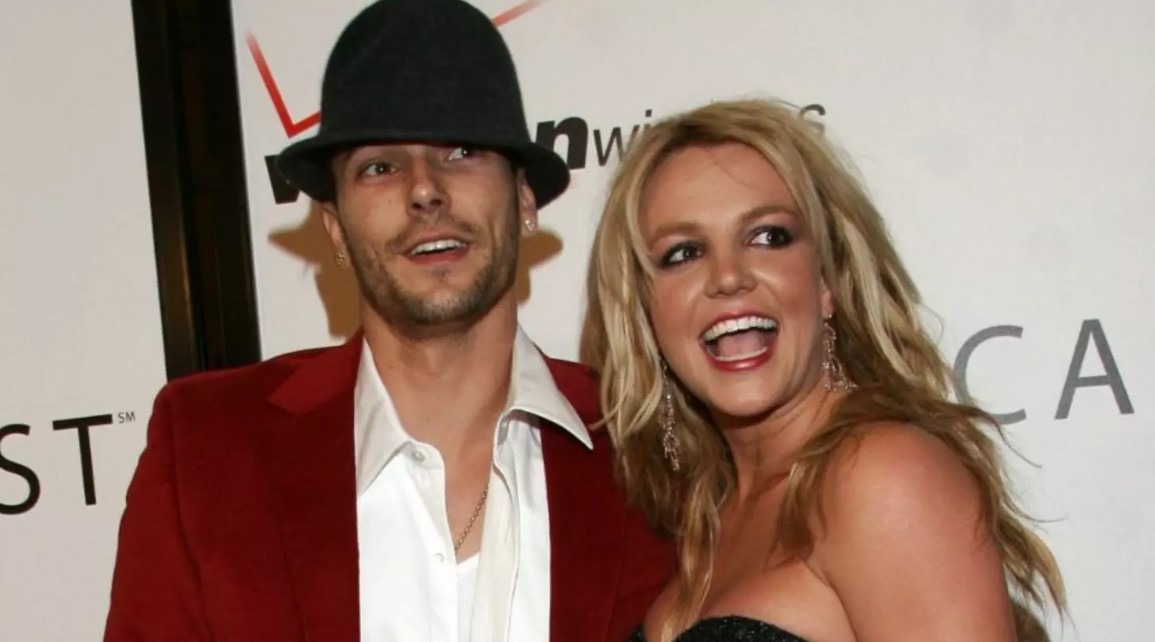 According to Daily Mail reports, Jamie Spears said,
"I miss my two boys really, really bad. 'I do. You know, we were very, very close.'"
He continued,
"They were around that age where you could start having a good time with them. But they were developing a mind of their own. God makes things happen for a reason. I don't know what that reason is, but it's been a tough three years without them. The family's a mess. All we can do is keep praying."
Spears added,
"My relationship with Kevin gave [the children] a sense of peace and protection. Kevin will tell you this, too—it was us who raised the kids. I just did what I was supposed to or felt like I needed to do."
Federline obtained a restraining order against Jamie Spears in September 2019 following allegations that he had abused his grandson Sean Preston. Additionally, Britney Spears' controversial social media activities caused her children to distance themselves from her. Additionally, her actions of posting NSFW pictures of herself and concerned posts caused tension among her fans, family, and husband, Sam Asghari.
Also Read: "She's panicking, She's very nervous": Britney Spears Desperately Wants to End Ex-Husband Kevin Federline's Attempt to Potentially Ruin Her Public Image
Source: Instagram, Daily Mail