Chrissy Teigen, along with her husband, John Legend, attended the White House Correspondents' Dinner red carpet on Saturday night and they both looked absolutely stunning. However, no one would have guessed that the American model had spent the previous week recovering from an illness. She was reported to be healing from "full-body sickness" after a family holiday.
Well, as she walked the White House Correspondents' Dinner, the mother of three wore a flowing lilac gown with a sparkling corset waistline, a plunging neckline, and a high-slit skirt. It was held at the Washington Hilton.
The cookbook author smiled as she posed for photos with her husband, John Legend, by her side. She accessorized her outfit with diamond rings, sparkling drop earrings, and silver sandals while wearing her hair down.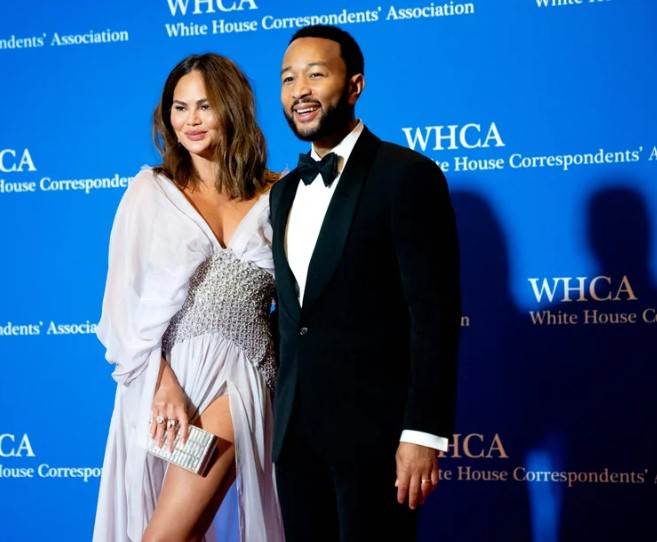 However, Chrissy Teigen has drawn criticism from Megyn Kelly, for asking a few of her staff members to hold her dress as she made her way to the Hilton for the White House Correspondents' Dinner. 
Also Read: 'Hopefully This Baby Isn't As Terrible As Your Wife': Fans Troll Chrissy Teigen As She Welcomes Third Child With John Legend
Megyn Kelly Slammed Chrissy Teigen For Having 'Serfs' Hold Her Dress 
Megyn Kelly criticized Chrissy Teigen for having "three minions" following her, while holding her dress on Saturday as she traveled to Washington, DC, for the White House Correspondents' Dinner. Kelly stated on her Monday episode of The Megyn Kelly Show on SiriusXM,
"She has, by my count, three minions following her—that's minions in her view—holding the dress or the train of her non-existent dress." 
Teigen received harsh criticism from Kelly for her "elitism," which she claimed was displayed by "the serfs behind her," noting that it appeared as though she was "literally going to [King Charles'] coronation."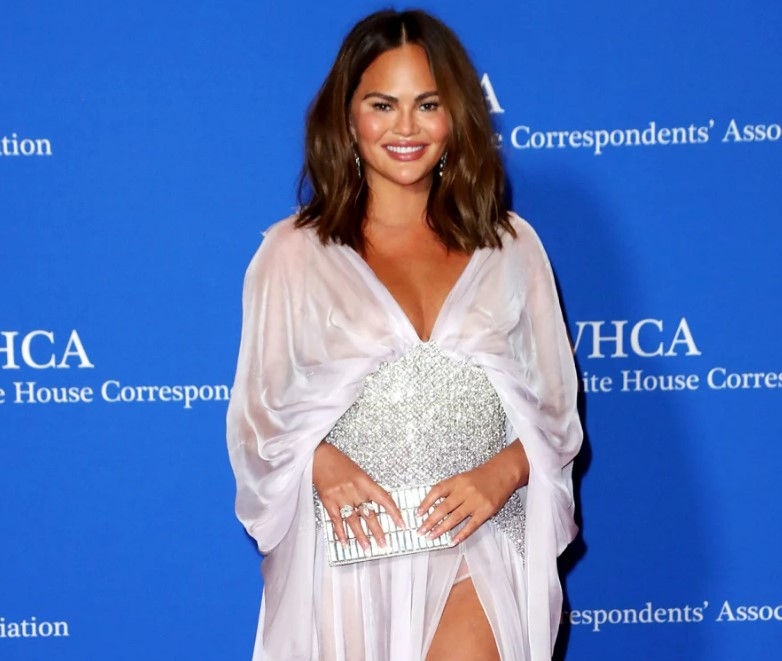 In addition, Kelly thought Teigen's lavender dress by George Hobeika had way too much skin showing through the sheer fabric. To quote her:
"I can see underwear, okay? I can see London, I see France, I see Chrissy's underpants, which nobody shows underpants at the White House Correspondents' Dinner."
Teigen's performance, according to Kelly, should serve as a warning to "those who are going to the Met Gala tonight."
Also Read: Johnny Depp's Kiss Scene With 'Public Enemies' Co-Star Carey Mulligan Was So Uncomfortable "It Got Cut From The Film"
Chrissy Teigen Attended the 2023 WHC Dinner After Illness
In a tweet from April 21, Teigen first admitted she wasn't feeling well, writing that "leaving a Disney cruise is like leaving Las Vegas, except you only feel like you binged drugs, and you are wet."
leaving a disney cruise is like leaving Las Vegas except you only feeeeeel like you binged drugs, and, you are wet

— chrissy teigen (@chrissyteigen) April 21, 2023
Throughout the week, the model kept her social media followers updated on her health. She posted an Instagram post with the caption,
"I don't think I've ever felt so full-body sick. This week kicked my ass but I am onnn the mend!! also please no jokes about if I caught long toe disease or something please, I know they're long, they're to climb banana trees."
Check out the post: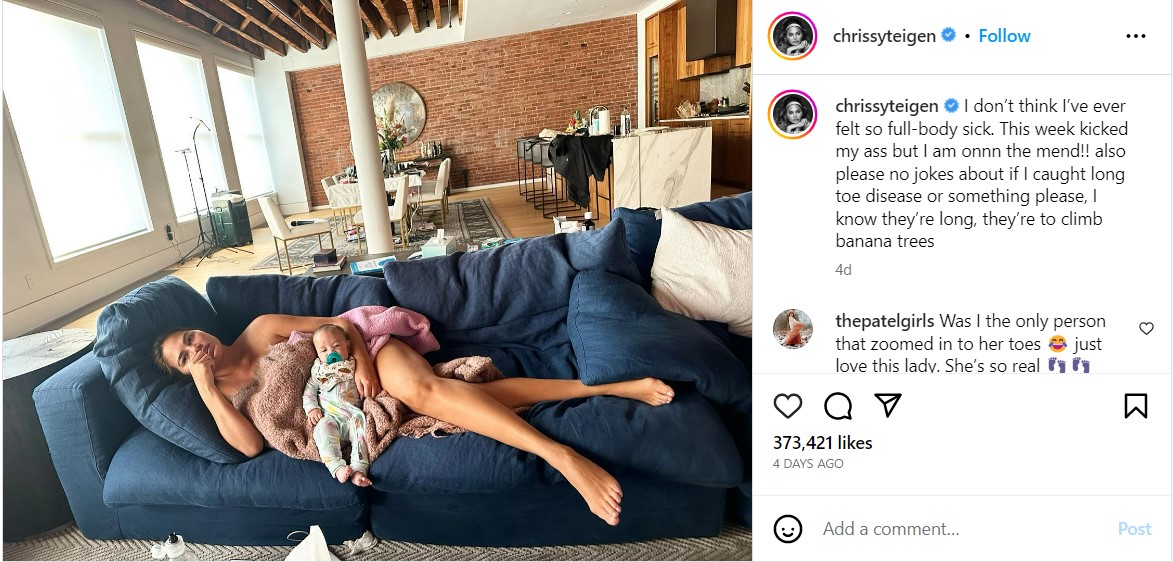 But by Thursday, as she reported via her Instagram Story, Teigen seemed to be feeling better.
There were several notable figures in attendance at the dinner hosted by the White House Correspondents' Association in Washington, D.C. on Saturday, April 29, 2023. President Joe Biden, First Lady Jill Biden, Vice President Kamala Harris, Kim Kardashian, Julia Fox, John Legend, Chrissy Teigen, and Winnie Harlow were among the notable attendees at the event.
Also Read: "I Was Very Selfish": John Legend Confesses He Wasn't A Good Husband To Chrissy Teigen Earlier, Claims It Took Time To Turn Infatuation Into Real Love
Source- The Megyn Kelly Show