The Halloween spirit has caught up to everybody around, and some people got carried away a lot more than others. The Kardashians are known for doing everything extra, needlessly extra. And Halloween is no different. The band of Kar-Jenners walked the extra mile yet again, but only in terms of editing and objectifying. Kendall Jenner had been facing the heat for her 'slutty' Jessie outfit and now the fire has caught up to her sister, Kylie Jenner, for posting ridiculously edited pictures of herself. Not like it's the first time anyways.
Kylie Jenner called out for heavily edited Halloween looks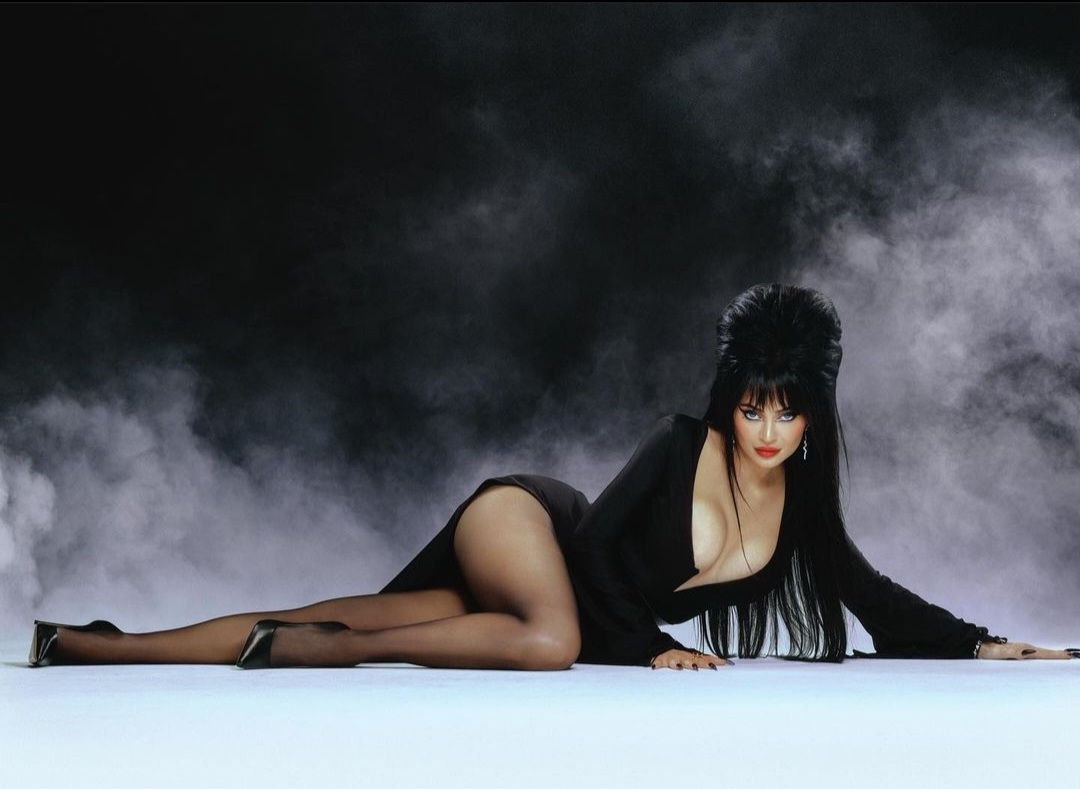 Kylie Jenner chose to channel the character of Elvira from Cassandra Peterson's 1988 film Elvira: Mistress of the Dark, this Halloween. The Kylie Cosmetics founder posted pictures of her as the horror comedy hostess donning two fits. One of the fits was a spider bra with nipple tassels, a sparkly garter belt, and stockings; and the other was a black bodysuit. She completed these looks with the titular character's signature bouffant hair to make it near-perfect.
Of course, nothing can ever be exactly perfect but the Kar-Jenners don't listen. The pictures posted by the 25-year-old, along with the captions "ELVIRA", "MISTRESS OF THE DARK", and "kyvira 🕸️" were so heavily edited that the followers couldn't help but notice.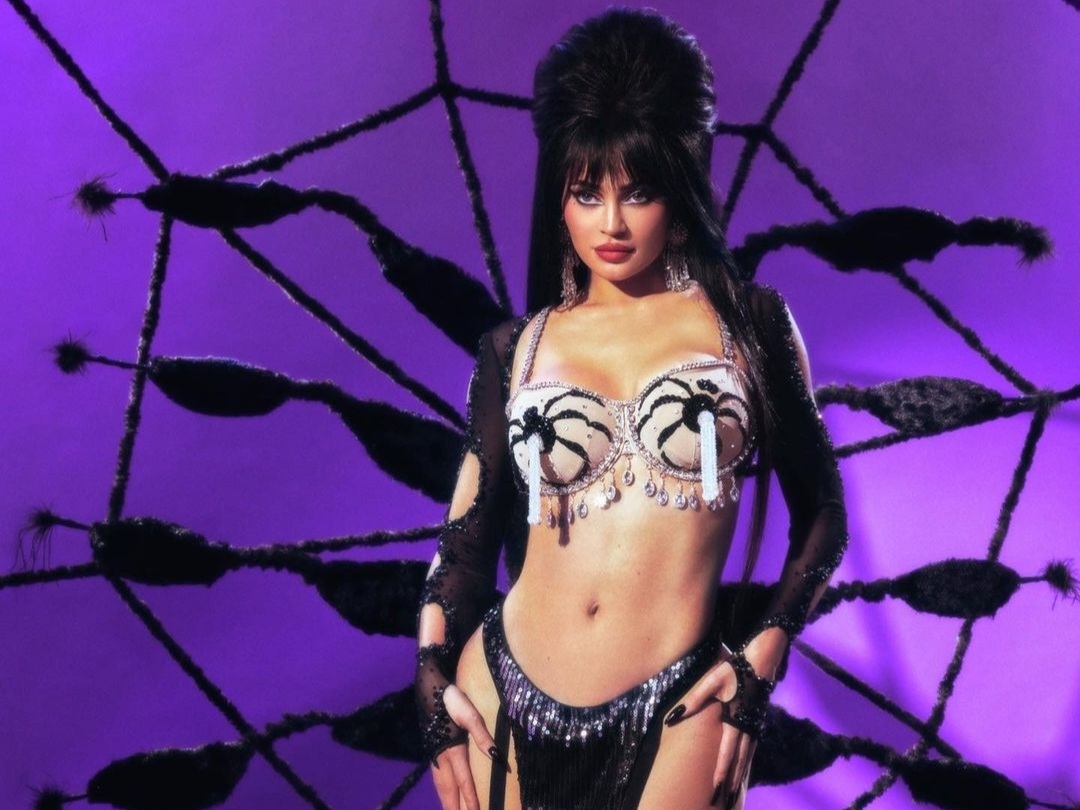 Also Read: 'She looks natural alright..naturally 40': Kylie Jenner, 25, Mega Trolled for Claiming Her Face is 'Naturally Gorgeous' – Fully Forgetting She Spent Millions in Plastic Surgeries
From airbrushing her skin to making her waist look smaller, netizens accused Jenner of it all. One such comment read, "The editor needs to be fired man come on now."
Another comment read, "Can the [sic] be anymore edited?" While yet another added, "Edit much? Lmao".
People are clearly done with the Kardashians trying to propagate an unrealistic beauty standard, that is only achievable by surgeries and editing. This is not the first time either that the Kardashians have been caught red-handed by the netizens. There is a long list of the Kar-Jenners photoshop epic fails over the years. Apart from Kylie, Kim and Khloe Kardashian are known for faking it heavily on Instagram. And followers have never slacked at noticing warped arms or legs (even six toes in one instance) and a desperate attempt to make the waists appear slimmer than humanly possible.
Also Read: 'She will leave Kim behind': Fans Claim Kylie Jenner Will Dethrone Kim Kardashian After $750M Fashion Mogul Wears Plunging Halloween Dress To Show Off Her Goddess Curves
Kendall Jenner's Halloween look controversy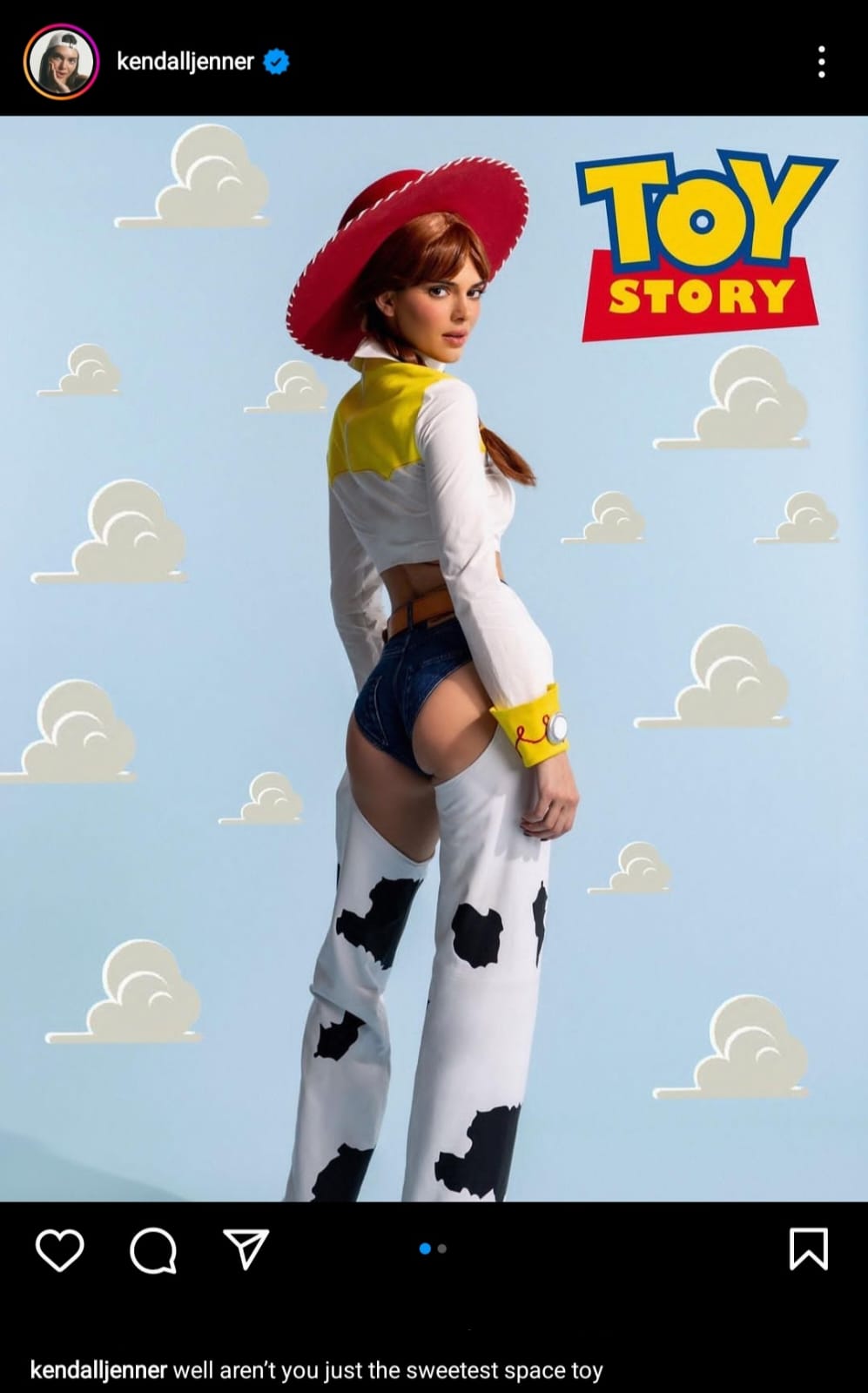 The youngest Jenner sister is not the only one from the Kar-Jenner clan who is facing backlash for her Halloween looks. Kendall Jenner decided to embody a slutty take on Toy Story's Jessie – a cowgirl. The supermodel took care of every detail from the yellow and white cropped cowgirl jacket to the red hat and redhead wig. However, unlike the innocent children cartoon character, the slutty Jessie did not have the back of her pants on and instead let her b*tt hang out through what appeared to be a denim thong and black and white cow-print pant bottoms.
The 27-year-old has faced intense criticism for sexualizing the children's cartoon character. Several people find Jenner's take completely unacceptable.
Also Read: "Is she really sexualizing children characters now?": Kendall Jenner Dresses Up as Jessie From Toy Story For Halloween, Gets Blasted By Fans For Not Even Sparing Children