Spoiler Alert for Moon Knight Episode 2!
Arthur Harrow's intentions are becoming more evident two episodes into Moon Knight, the MCU's newest series now streaming on Disney+, as the cult-like leader discloses to Steven Grant (Oscar Isaac) his plans to resurrect another Egyptian god, Ammit. Harrow may be unlike his comic counterpart, but the differences appear to be for the better. While Harrow appears to have a large following, it is his mystical abilities that pose the greatest threat to the hero.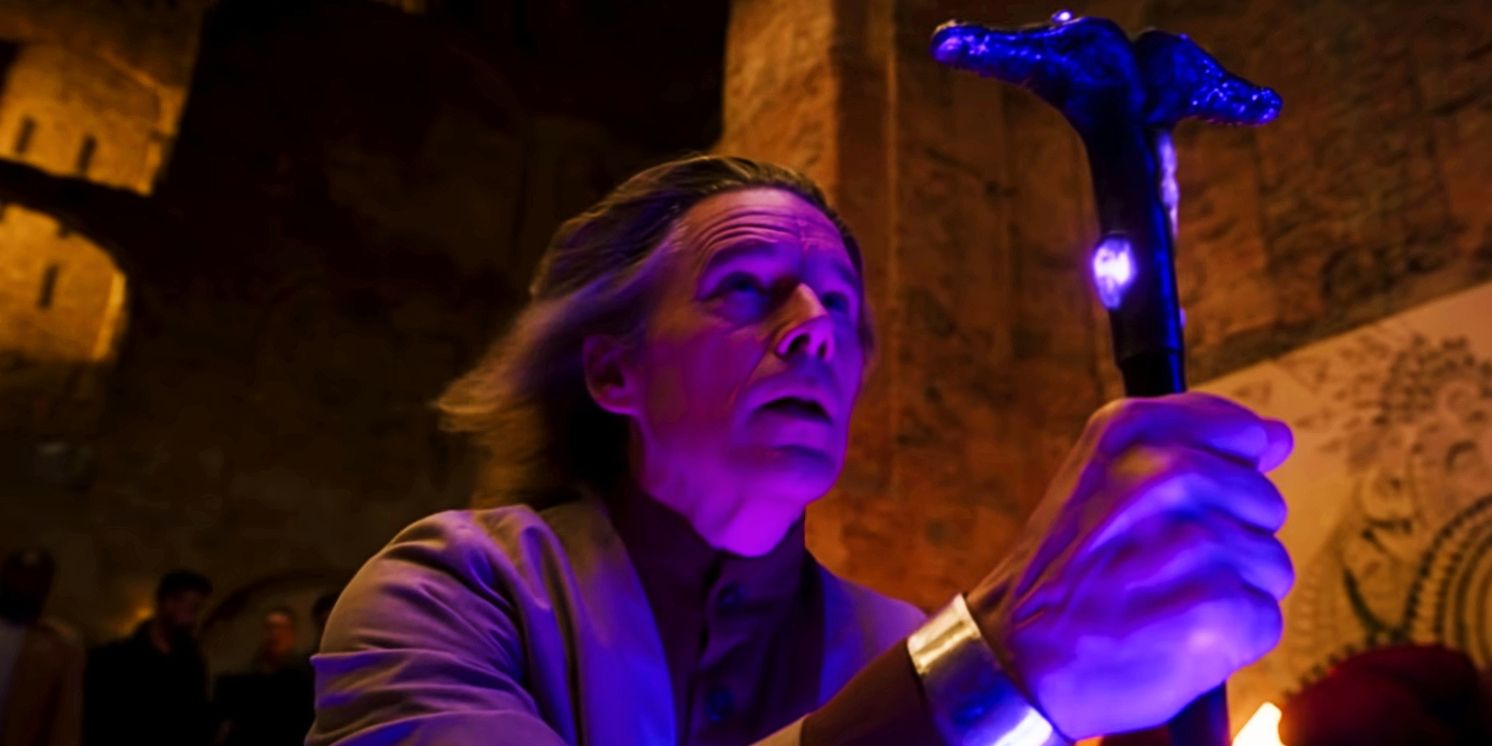 Ethan Hawke discusses playing the cryptic antagonist, who crosses the lines between a traditional villain and his Thanos-like intentions, with ET's Will Marfuggi. Although there is no clear reference to Thanos in Moon Knight, the ideologies of Arthur Harrow (Ethan Hawke) and Thanos (Josh Brolin) are very similar. Both villains are self-proclaimed men of principle who advocate for the world's rescue. Thanos' enormous trust in his own righteousness parallels Arthur's condemnatory perspective, and as a result, both are subject to mistakes and hypocrisy.
The Similarity in Harrow's and Thanos' Goals
Fans learned in episode 2 that Harrow was also Khonshu's servant before Marc Spector. Fans were startled because they felt Khonshu was a kind deity who would never employ someone as wicked as Harrow. Harrow apprehends Steven and informs him that Khonshu has stopped paying attention to him and that the god isn't who he appears to be. Harrow now serves the Egyptian god Ammit, and he is ready to use the abilities bestowed upon him to punish anyone who disobeys his god.
Arthur looks forward to eliminating suffering and pain in order to create a utopia. On the other hand, Thanos' main goal is to bring about stability by removing half of all life so that the population equalizes the supply of resources. Arthur, however, Arthur intends to accomplish his motive by using his powers, which are linked to Ammit's staff and tattooed balance scales, to pass judgment on others.
Arthur Harrow states that according to what is defined by the balance ceremony he only kills people depending on their ability to be evil. However, Arthur's killing rule is broken in Moon Knight episode 2 when he murders an evidently innocent man on the street. His killer impulses had overwhelmed him, possibly intensified by his time as Khonshu's former avatar, and compelled him to perform an act of violence right away. Thanos' hypocrisy was mirrored in Arthur's mistake, as the latter likewise jeopardized his promise to commit genocide across the universe at random.
Marc Spector – Oscar Isaac
Arthur Harrow – Ethan Hawke
Anton Mogart – Gaspard Ulliel
Khonshu – Karim El Hakim
Ammit – Sofia Danu
Layla El-Faouly – May Calamawy