Netflix finally dropped it's teaser for Red Notice which is set to unite Ryan Reynolds, Gal Gadot and Dwyane Johnson together on the screens. It has been a long wait for the release but the company has finally brought out the footage for the fans.
And we can't get enough of these superstars sharing the screen and no doubt it's going to bring some great business  for the streaming giant.
Here's the teaser for much awaited Netflix's Red Notice
The movie centers around an art thief, an FBI agent and a con man, who navigate high- stakes world of espionage. Dwyane Johnson was pretty busy with the release of Jungle Cruise and on the other hand, Ryan Reynolds is trying to promote Free Guy.
But all of them are excited to see how the fans react when it comes to Red Notice.
The Social media has been seeing some pretty mixed reactions about the same. Since NBC is airing the Olympics and the fans have managed to get some glimpses of the movie during all breaks.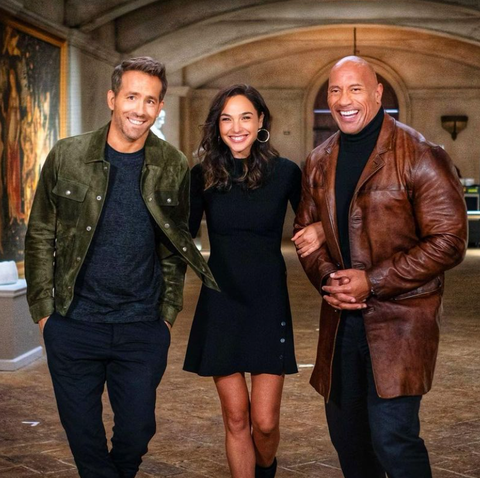 In recent interview, Scott Stuber said that original movies like Red Notice are vital for their business. He further added, "We have to be more consistent at making these movies more culturally relevant and putting them in the zeitgeist." He went on to explain "We know the audience is there for these movies, but I want people to feel that impact in their conversations with friends and colleagues where they're saying did you hear about this movie 'Old Guard'? We've done it, but we haven't done it consistently."
Dwayne Johnson also told his fans on Instagram that Netflix had utmost faith in the project.
Netflix's description of Red Notice reads as " An Interpol-issued Red Notice is a global alert to hunt and capture the world's most wanted. But when a daring heist brings together the FBI's top profiler (Johnson) and two rival criminals (Gadot, Reynolds), there's no telling what will happen."
We can't wait for the movie to hit our screens on 12th November 2021. It's going to be a treat to watch these three together.