Rihanna has developed into the kind of celebrity who doesn't just wear what's in style or buys clothes straight off the runway. Instead, she is the rare kind of A-lister who actually designs her own look and regularly astounds fans. 
The Grammy-winning singer is once again revolutionizing pregnancy looks with her bump-baring, head-turning style as she expects her second child with boyfriend, A$AP Rocky. The 35-year-old singer sparked a craze among her fans after sharing a number of throwback photos from her first maternity shoot in 2022.
The Barbadian musician icon posted numerous pictures from her pregnancy with baby, Rza Athelston Mayers on Instagram. The internet has gone crazy over her latest posted pregnancy photoshoot images (doesn't mind if they are throwbacks). 
And, these captivating images have already caused a stir on the internet.
Also, read- After Conquering SuperBowl, Rihanna Set to Join Smurfs 3 in Epic Comeback Year.
Nothing Can Beat Rihanna's N*De Maternity Photoshoot
We are always in awe of Rihanna! As she shared images from an unseen photoshoot from her first pregnancy, the soon-to-be mother caused a sensation on the internet. The #ThrowbackThursday posts honored both her incredible body, which 'embraced motherhood', and her first child, RZA Athelston Mayers. ‌
Beyonce started the trend of n*de maternity photo shoots, but Rihanna's is just the next level! In the photos, the singer is virtually bare-chested and is only sporting a gold-string bikini. She appears to be a goddess while posing in front of a backdrop of palm trees and the ocean.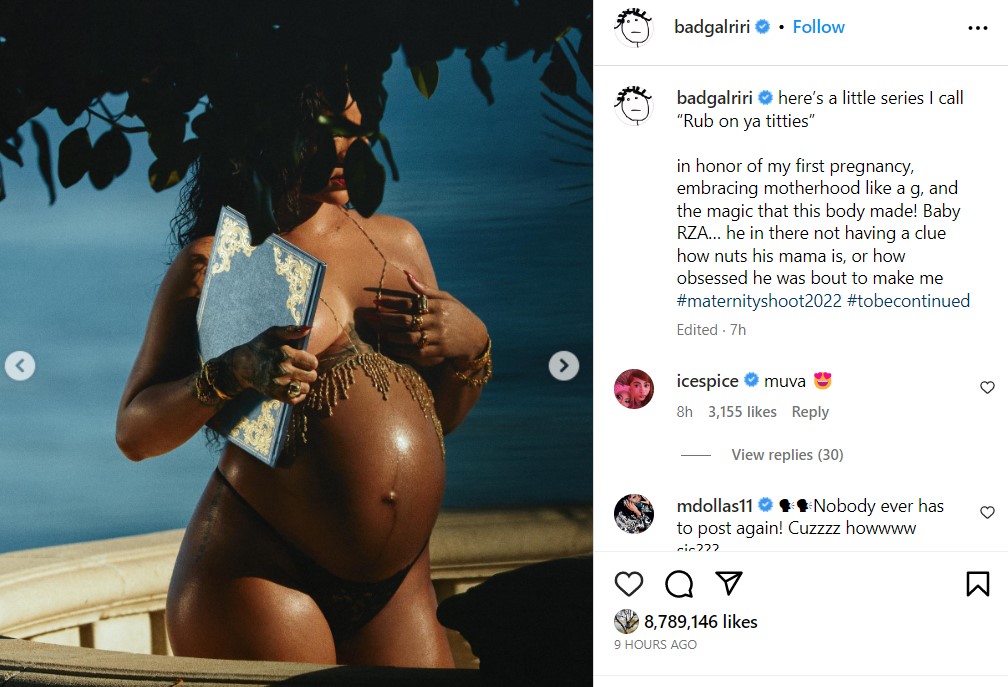 She captioned the pictures, saying:
"Here's a little series I call 'Rub on ya t*tties. In honour of my first pregnancy, embracing motherhood like a g, and the magic that this body made! Baby RZA…he in there not having a clue how nuts his mama is, or how obsessed he was bout to make me." 
A$AP Rocky, Rihanna's partner, and fellow musician, is the father of their child. In addition to recently celebrating their first son's first birthday, the couple is also expecting their second child.   
Also, read- Rihanna's Beef With Kardashians Explained – Why Does RiRi Hate Kendall and Kylie Jenner?
Rihanna On Motherhood
In a recent interview, Rihanna, who is currently expecting her second child with her boyfriend A$AP Rocky, discussed motherhood and how her year with her son has been "legendary".
She proudly said:
"It's everything. You really don't remember life before, that's the craziest thing ever. You literally try to remember it, and there are photos of my life before, but the feeling, the desires, the things that you enjoy, everything, you just don't identify with it because you don't even allow yourself mentally to get that far because…Because it doesn't matter." 
In the already hot weather, the singer undoubtedly raised the temperature with her latest posted unseen photos. But that's not the case. The singer teased the "to be continued" hashtag in her caption, so we can expect more from her soon!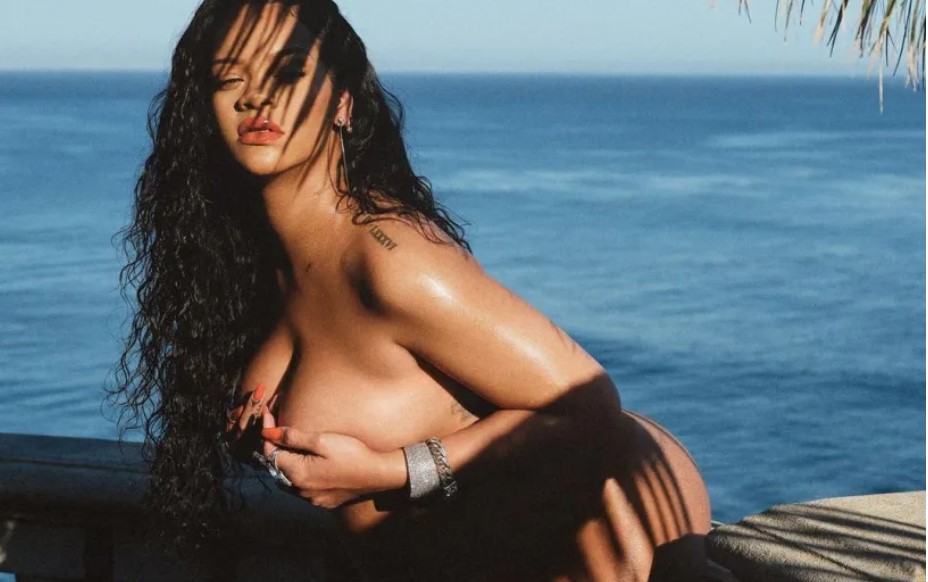 A$AP Rocky, the child's father, and the proud mother recently celebrated the first birthday of their firstborn. She even shared a carousel of heartfelt and family pictures from the couple's personal album on Instagram. 
Earlier this year, during her 12-minute Super Bowl performance, the billionaire hinted that she was expecting her second child. However, her representatives later confirmed the news. The music legend stunned her fans and critics alike with a stunning halftime performance that included some of her best-known songs.
Also, read- Rihanna Net Worth – How Much Money Has One of Hollywood's Richest Singers Made Over Two Decades-Long Career?
Source- Instagram