The 76th Cannes Film Festival, which takes place in Cannes, southern France, had some bold looks that made statements on the red carpet. Lona Chernobai is a Ukrainian model and fitness influencer. On the red carpet, the model recently expressed her support for her nation.
llona Chernobai's bold yet noteworthy performance on the carpet may have banned her from entering Cannes and many other events, but she has proudly said that everything she did was worth it. Some Ukrainian people have even come forward in support of the model saying what she did needs courage and mentioning online that they are proud of her.
Read this: "I'm super happy for him": Lily-Rose Depp "Super Proud" after Dad Johnny Depp's 'Jeanne du Barry' Movie Gets Standing Ovation at Cannes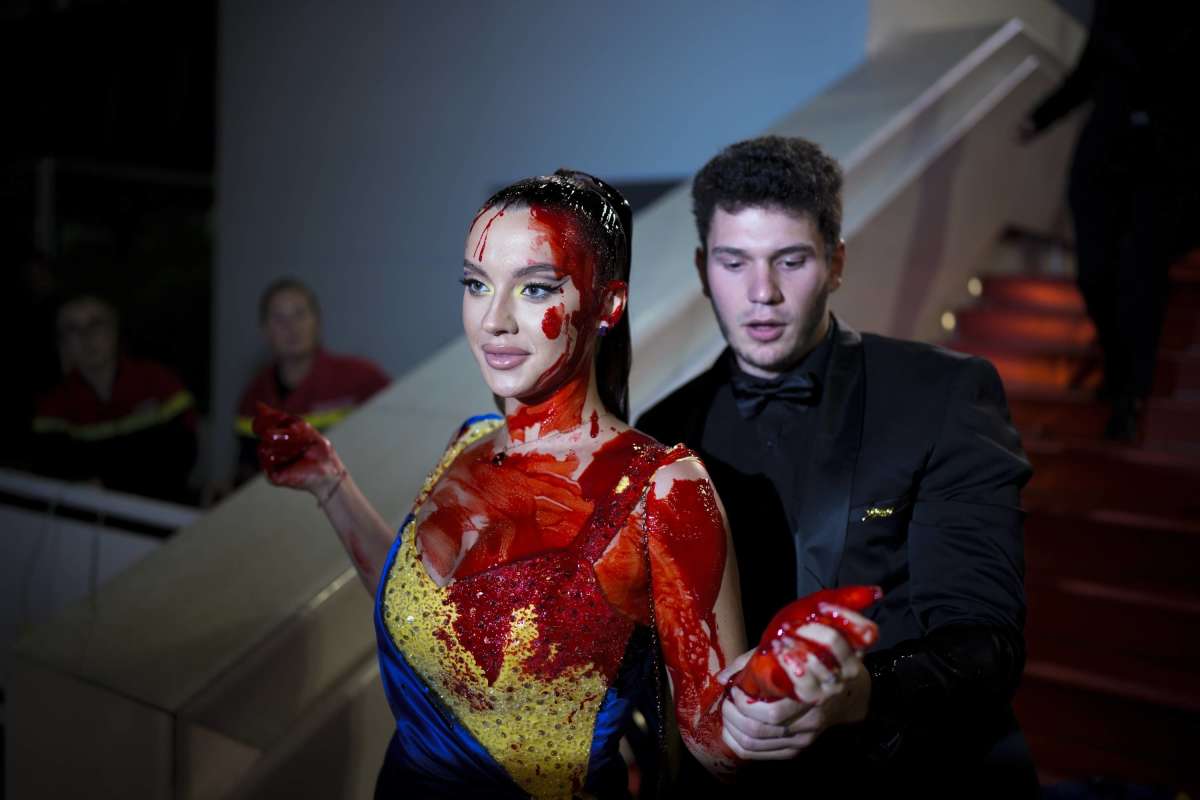 llona Chernobai's demonstrated a fake blood bath at the staircase
llona Chernobai, who is a well-known model and fitness influencer from Ukraine, walked the red carpet at the 2023 Cannes Film Festival ahead of the premiere of the movie Acide by Just Philippot. The model donned a beautiful blue and yellow dress as she walked in depicting the colors of her country's flag and as she approached the staircase, she pulled out a bag of fake blood and poured it on herself.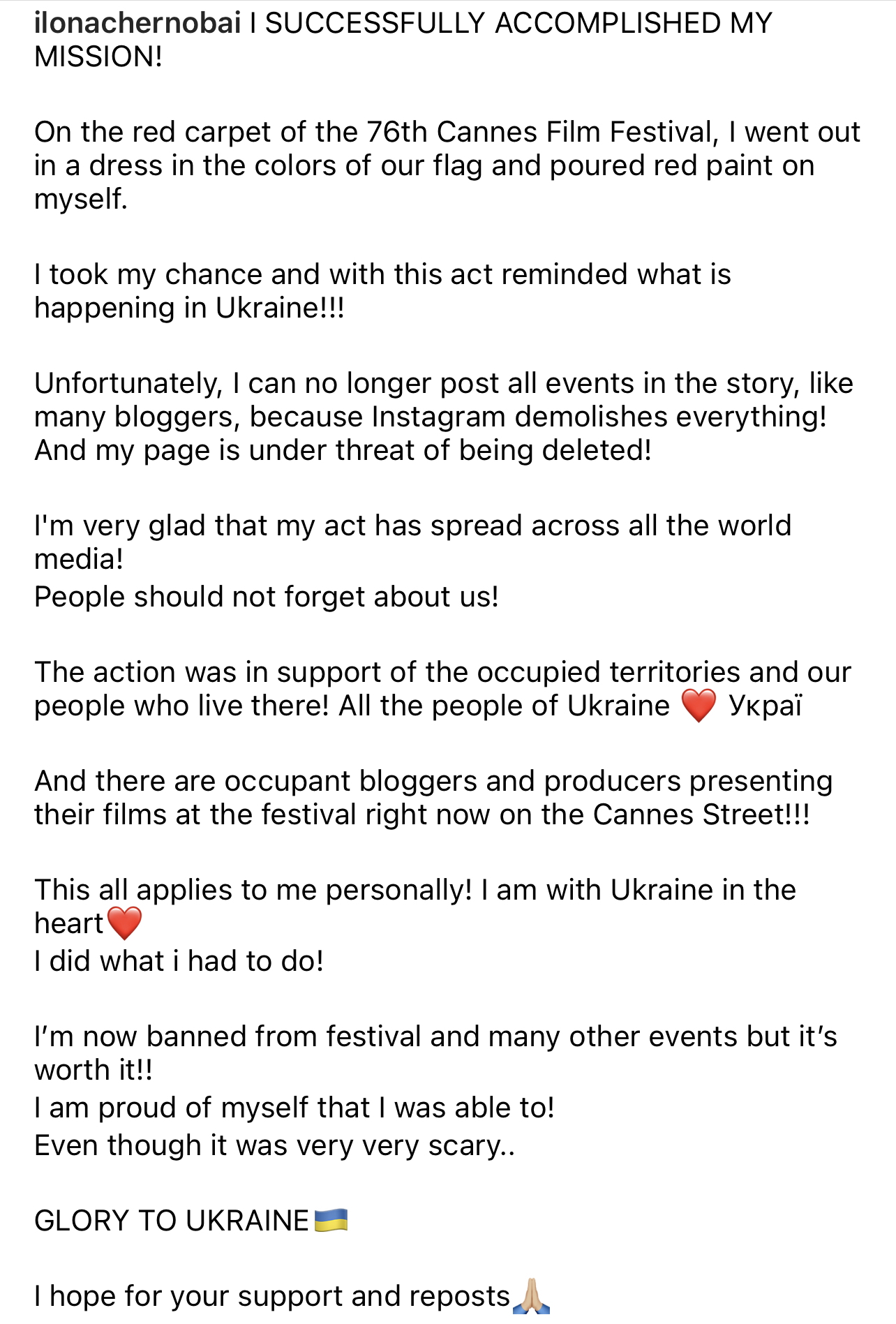 Chernobai, who managed to capture the attention of the media as well as the security of the film festival, was escorted out of the premises and is now banned from Cannes and many other events. The influencer decided to pour fake blood all over her to show support for Ukraine after Russia invaded the country.
Read this: Tom Hanks Gets Into Intense Altercation With Mystery Man at Cannes Premiere, Risks Losing Hollywood's Gentleman Title 
Cannes issued a ban on protests and rallies
Ahead of the stunt by llona Chernobai, local authorities had announced earlier that they wanted to protect the glamorous event at any cost. It was also reported that Cannes also banned Russian delegates from the festival last year, as a statement that was released read, "We will not welcome official Russian delegations nor accept the presence of anyone linked to the Russian government."
llona Chernobai may not have been able to attend Cannes or many other events as a result of her bold yet notable behavior on the red carpet, but she has adamantly stated that everything she did was worthwhile. A few Ukrainians have come forward to defend the model, saying that it took courage for her to do what she did, and they have posted their admiration for her online.
On Sunday, demonstrators gathered outside the city to march in opposition to President Emmanuel Macron's pension reforms. Last week, a SCUM (Society for Cutting Up Men) activist broke onto the red carpet to stage an anti-surrogacy protest while wearing a barcode painted on her stomach.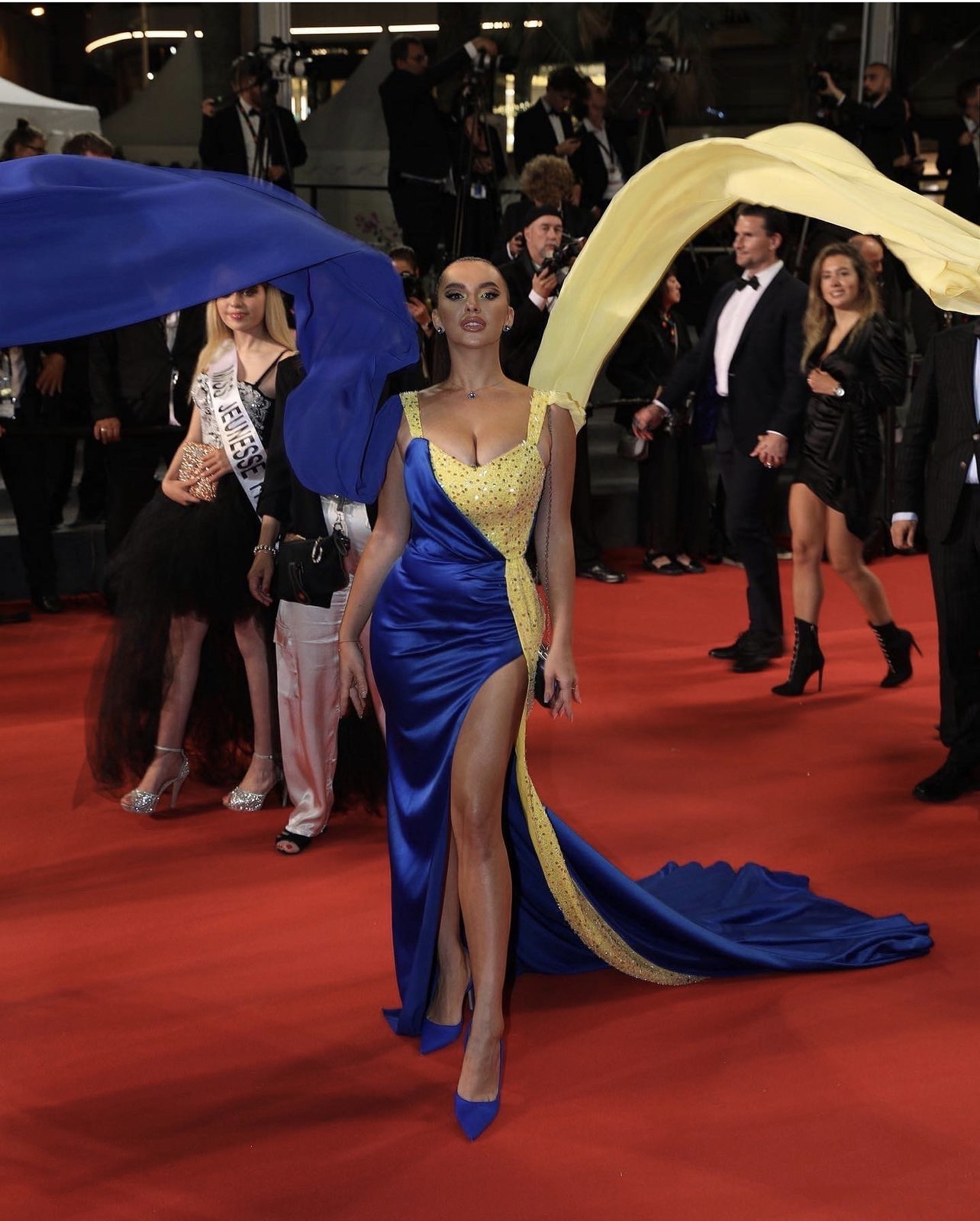 The initial decision to wear an outfit that embodied the blue and yellow colors of the Ukrainian flag was made by journalist Elvira Gavrilova of Ukraine. The outfit was created by the Kazakh brand Arunaz Atelier. According to a BBC report, it is still unclear whether Chernobai's act of pouring fake blood on her was a conscious attempt to attack the movie Acide or if she was merely trying to raise awareness.
Last week, Ukrainian President Volodymyr Zelenskyy challenged the Kremlin's claims during a Group of 7 summit in Nagasaki, Japan, where he told delegates that Bakhmut was not occupied by Russian forces. He said,
"We are not throwing people away to die. People are treasures. I clearly understand what is happening in Bakhmut. I cannot share with you the technical details of what is happening to our warriors."
Read this: "Something I'm definitely curious about": Natalie Portman Says Cannes Treats Women Differently Than Men
llona Chernobai says she took her chance and is proud
Chernobai, who was escorted out of the festival, took to her social media account to share a lengthy statement addressing her act. She said, "I took my chance and with this act, I reminded what is happening in Ukraine!!!…People should not forget about us!"
The model who has about 1 million followers online. She said, "The action was in support of the occupied territories and our people who live there." It was said that the fitness influencer was scared about losing her social media for sharing the act and mentioned. She worried about losing her social media platform for sharing the bloody scene. She said,
"I am very glad that my act spread all over the media! People should not forget about us! I am with Ukraine in my heart. I did what I had to do!"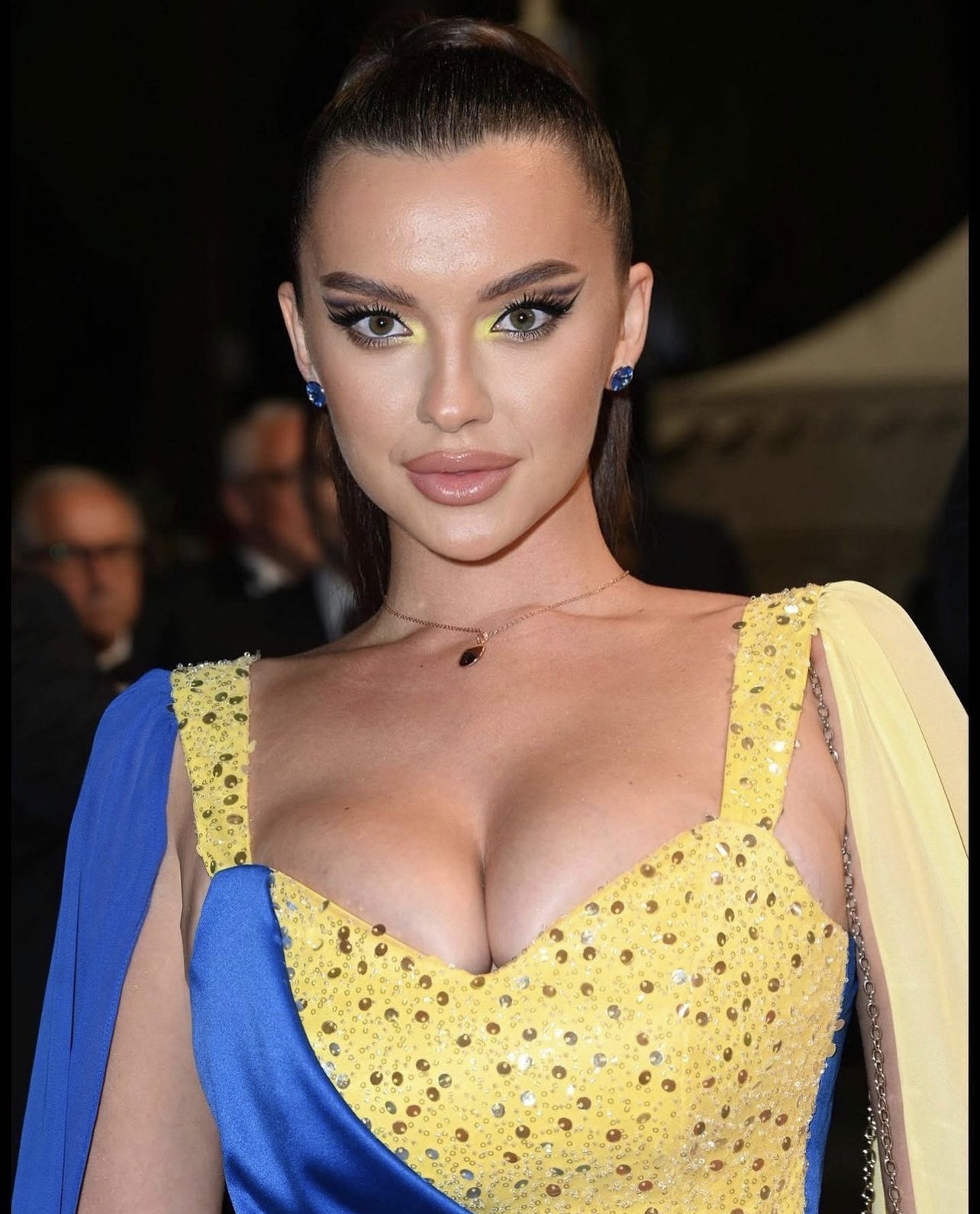 The popular model and fitness influencer who didn't hesitate to act so outspoken said that every second spent climbing those stairs was worthwhile. However, Chernobai's stunt sparked a strong reaction on social media, with users praising her bravery. When some fans mentioned that they had been watching Chernobai's act on the carpet, it only led to them being emotional. As they added, Ukraine and the people are invincible!
Source: CNN