We hear more about Xbox Series X games as the next-gen console's launch date creeps ever closer. Microsoft's next-generation hardware promises to be one of the most potent games consoles in the world as it is one of the fastest and capable of much more advanced graphics than its predecessors. We know of a few games coming from Xbox itself, but third-parties are starting to reveal and confirm their next-gen and cross-gen game.
For diligent gamers, this will undoubtedly be a massive hurrah! 
We've seen the console's design, been given a breakdown of the specs, and have seen the small tweaks made to the next-generation Xbox controller.  Furthermore, the Xbox Series X is shaping up to be a very interesting console from Microsoft. And it is going to beat the PS5 on pure specs alone, other than SSD performance.  
Finally, On May 7, Microsoft gave us a deluge of trailers to let people know what third-party games will hit Xbox Series X.These range from first-person shooters to psychological horror games. 
FIRST LOOK: NEW XBOX SERIES X GAMES CONFIRMED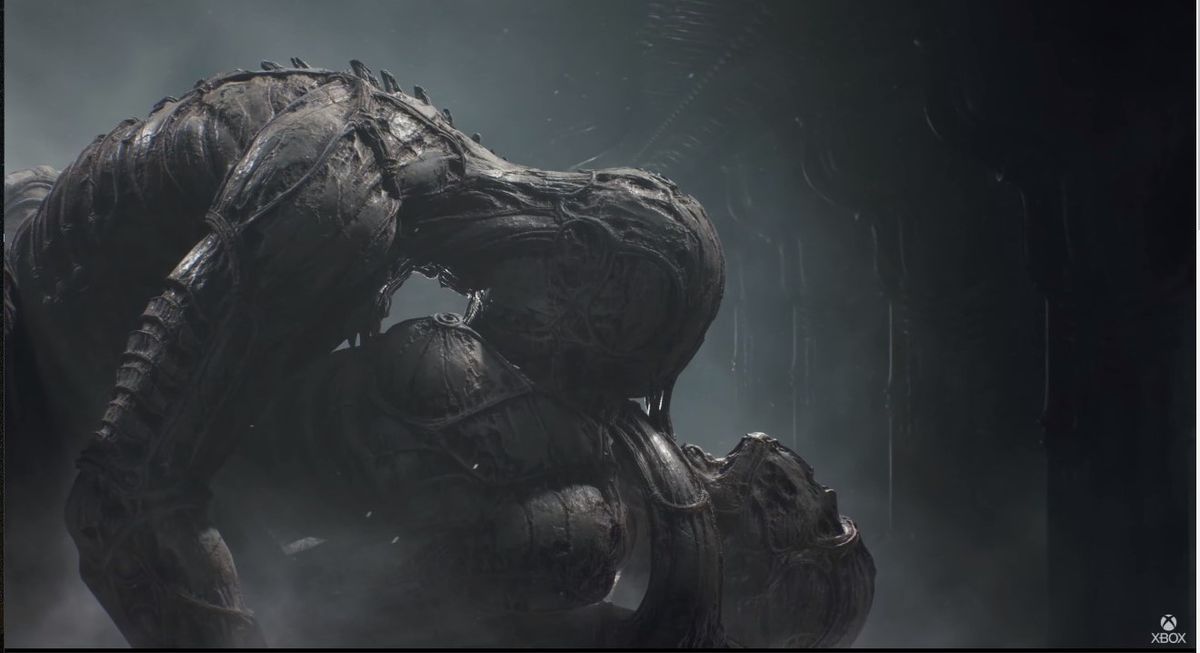 To know what you're going to play on the next-gen console, here's every Xbox Series X game Microsoft has confirmed so far. Moreover, some other games that we hope to expect or demand to see.
     1. Vampire: The Masquerade – Bloodlines 2:- This game is coming to Xbox Series X as well as the current consoles and the PC. The game follows the story of a human in the 21st century. He gets killed and then revived as a "thin blood" vampire and then enters the underworld of vampire society in the city. 
      2. SENUA'S SAGA: HELL BLADE II:-  It is a dark fantasy action-adventure game that is known to explore themes of mental illness. At this time, it's unclear how it is related to its predecessor, but it is still in the hands of Ninja Theory.
HALO INFINITE

:-  This is a first-person shooter and the sixth mainline Halo game. Current speculation suggests the next Halo could return to the iconic Halo rings. The open environments that made battling through the arenas of Combat Evolved, Halo 3, and Halo Reach a joy. It will hit up as a cross-gen game.
SECOND EXTINCTION

:- To play this game all that you need to know is next-gen dinosaurs. If somehow you need to know more about this game, here it is. Second Extinction is an intense three-player co-op first-person shooter game. Moreover, being a next-gen game, it's also in development for current consoles. 
       5.CYBERPUNK 2077:- CD Projekt Red's Blade Runner meets Deus Ex meets The Witcher 3 sci-fi game, Cyberpunk 2077, is set to launch on the  Xbox One. It's likely to hit current-gen consoles and PC this September, but it's unclear when it will arrive on next-gen hardware. 
      6.CHORUS:- Slated for 2021, Chorus is a space-flight combat shooter. It sees protagonist Nara blast away at things in her sentient starfighter Forsaken. There's a dark sci-fi tone to the trailer, which shows some mysterious force eating a planet.  So it doesn't have more colourful tones. However, it looks like it's getting proper next-generation treatment, with striking visuals and some impressive lighting.
      7.GODS AND MONSTERS:- It is a storybook adventure game with severe Legend of Zelda: Breath of the Wild vibes. This game will be going to be a cross-gen release.
     8.SCARLET NEXUS:-If you've ever wanted to become an elite psionic in an anime world, then Scarlet Nexus could be the game for you.  It is based on a  story of Yuito Sumeragi, who's on a journey to become powerful. It also has mild horror elements.
RAINBOW SIX QUARANTINE

:-  Rainbow six quarantine is a three-player tactical cooperative first-person shooter from publisher Ubisoft. It will hit up as a cross-gen game.
THE MEDIUM

:- The Medium is channelling some severe Silent Hill vibes. The trailer set the tone of the game steeped in psychological horror. The story revolves around a medium called Maria – who seems to be rather talented at her craft. She can access the "spirit realm" – who's being haunted by a vision that's linked to an old resort in Krakow, set in late 80s Poland. Undoubtedly, this game is going to have a buzz. 
However, the list goes on. It seems as if it doesn't have an end. Here are some other games apart from the ones mentioned above! 
Assassin's Creed Valhalla, Bright Memory Infinite, Outriders, Yakuza: like a dragon, Scorn, Observer System Redux, Dying Light 2, Watch Dogs: Legion, Dirt 5, Gothic (remake), The Ascent, Call of the Sea, Madden Nfl 21, Wrc 9, the lord of the rings: Gollum, Lords of fallen 2, Destiny 2, Gears 5, Clancy's Rainbow Six Siege, Warframe and much more.
FULFIL YOUR FANTASIES!
 We still haven't seen a significant showcase of what games we can expect on the Xbox Series X. But as the 'Holiday 2020' launch draws nearer, Microsoft will almost certainly reveal a whole lot more games for its next-generation console.
This year has plenty of games to come. So be ready with your squad to gain experience!  It seems like it's going to be a tremendous year for exciting game releases. We will also look beyond the year, to even more releases we can hardly wait to get our hands-on.
Sources :- comicbook , techradar
Thanks for your feedback!