The reboot to 2003's Cheaper by the Dozen premiered on 18th March 2022 over Disney+. This 2022 version features Zach Braff as Paul Baker along with Gabrielle Union. Directed by Black-ish director Gail Lerner from a story by Kenya Barris and writer/producer Jenifer Rice-Genzuk, This film adds a few welcome changes to the concept of huge family shenanigans but retains the flat comedy of the 2003 film.
The essence and core of the story more or less remain the same starting off from them being known as the 'Bakers' or the fathers following their dreams in both versions. However, the 2022 version of the film has tried its level best to portray the updated and modernized American Family. Though the approach becomes clumsy at times and ends up creating a fuss. The main changes that one might notice in the newer versions are listed below.
Blended Family with Lesser Kids
In the 2003 version of the film, the Bakers had 12 children together more like the family in the novel. However, the 2022 Bakers family normalizes the concept of blended family and divorce in American Families. Paul and Zoey together are parents to four children and they have four children from their previous marriages with Kate and Dom. Along with this Paul and Kate's adopted godson, Haresh live with the family too. Including Paul and Zoey, the number is rounded off to a 'dozen' when Paul's nephew Seth moves in with them. Instead of having a dozen children, the 2022 version adds together two parents and ten children to make a dozen.
Changed Occupations
  Zoey Baker
Kate became engrossed in the flurry of her book contract, Cheaper By The Dozen, in 2003, and she ignored her family, resulting in some backlash. In the new film, though, Zoey is at home, trying everything she can to keep the family together. Zoey never stops working though. Instead, she used her marketing expertise to assist Paul in redefining and promoting his restaurant from a regular diner to a breakfast restaurant. Paul is a chef who owns and operates a breakfast restaurant with his family. After securing an investor to help him bottle and market his unique sauce, his family moves into a larger home. Unlike the 2003 version where Steve Martin's Tom is a football coach making his family move for the new job. 
Stood Against Bullying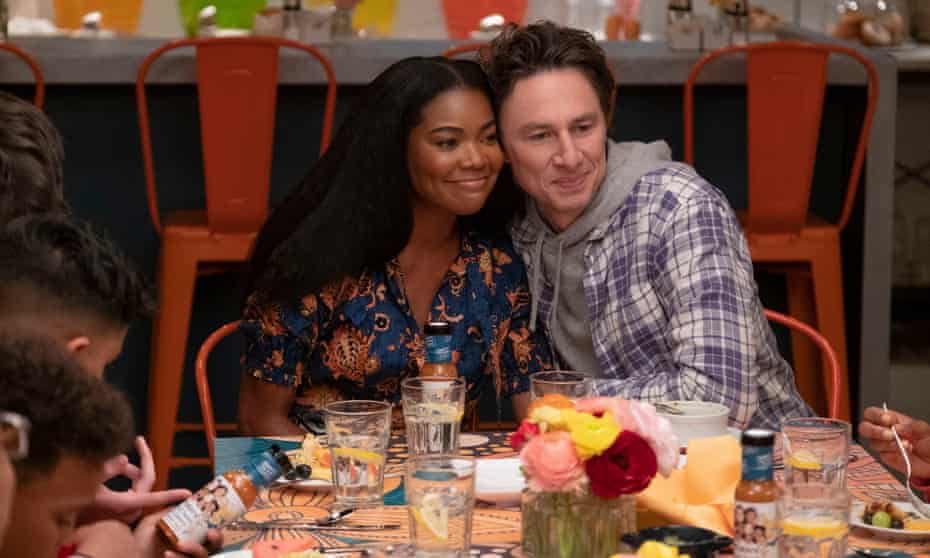 In the year 2022, the Baker family is interracial. Zoey is a black lady who is married to a white guy, Paul. The film makes an attempt to tackle race sensitively, although it does explore Paul and Zoey's racial differences, as well as how racism impacts her and their children of color. Haresh was bullied at school because he was Indian, while Deja was sidelined to make room on the team for an undeserving affluent girl whose family paid for the gym. It allowed for white privilege criticism in how Zoey's ex, Dom, was concerned that Paul didn't understand how Black children had to be nurtured in a world where white people would always perceive them as threats.
Illinois Vs California 
In the 2003 film, the Bakers reside near a farmhouse in Midland, Illinois, until Tom obtains a job at his old college. The Bakers are portrayed as an all-American Midwestern family who doesn't fit in with the locals. The 2022 Bakers, on the other hand, hail from Echo Park in Los Angeles, California. They relocate to Calabasas, a Los Angeles suburb, where they fight to fit in, much as they did in the 2003 version. They feel out of place this time, though, because they are a primarily mixed-race family with a big number of children, and some of their rich neighbors and schoolmates think they are bizarre.
Avoids Gender Stereotypes
In the 2003 film, Charlie, the oldest son, is a talented football player who aspires to win a college football scholarship. However, in the 2022 version, Deja, who is a basketball player at her high school, defies gender norms. Though she is most likely a basketball player rather than a football player as a result of gender discrimination. Football is still mostly a male-dominated sport, and it would be challenging for a female to be taken seriously as a player, especially at the college level.