Twice is one of the most popular K-Pop Girl groups in the world right now. The group consists of nine members, Jihyo, Nayeon, Jeongyeon, Momo, Sana, Mina, Dahyun, Chaeyoung, and Tzuyu. The third-generation nine-member group quickly managed to establish itself as one of the top contenders in the K-Pop industry.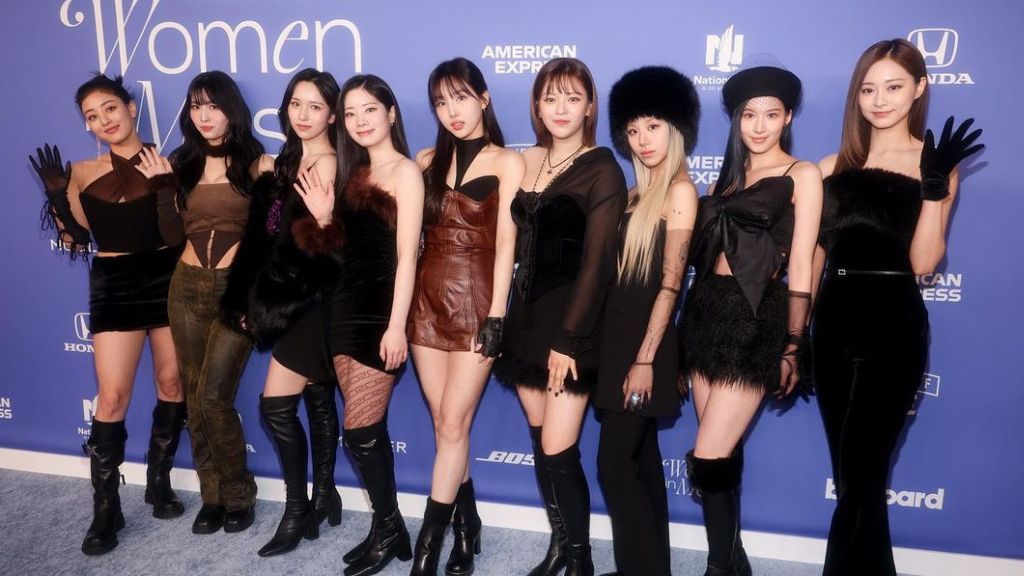 Also Read: Amber Heard's Alleged Ex Cara Delevingne's Fashion Comeback at Oscars 2023 Stuns Internet Following Drug Addiction Fuelled Rampage
While they often hit headlines for their songs and other group activities, they recently garnered attention when the rapper of the group, Chaeyoung went under fire for her recent fashion statement.
Chaeyoung of Twice-Garnered Controversy After Wearing a Swastika Crop Top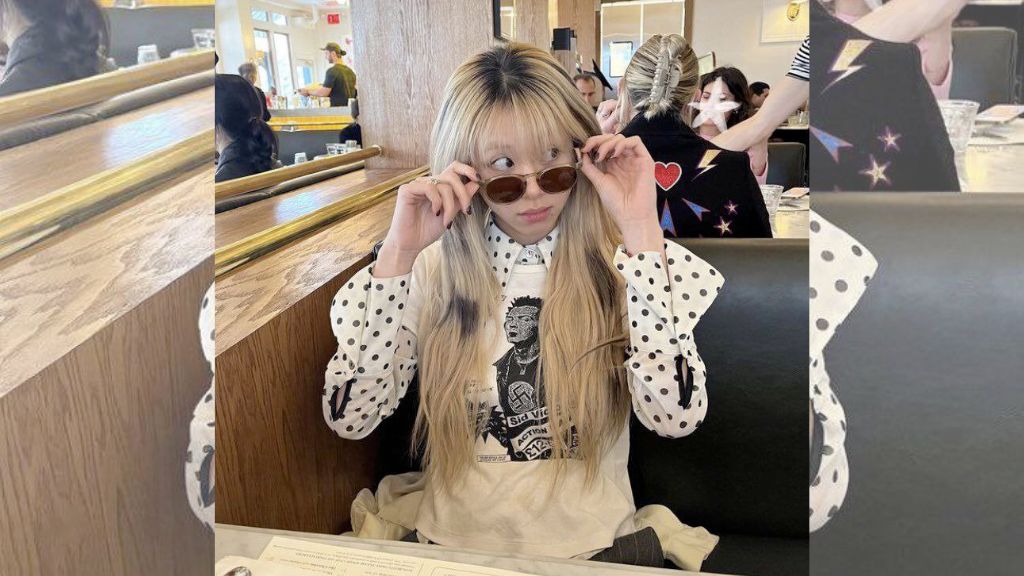 Also Read: Despite Being Ousted by Royal Family, Meghan Markle Spares No Expense To Show Off $6400 Chanel 19 Handbag, Cement Herself as a Fashion Icon
The 23-year-old rapper of Twice, Chaeyoung is under hot water after she uploaded a now-deleted picture of herself on Instagram wearing a top that became a piece of attention. The singer posted a series of images from her leisure time in the United States during the group's World Tour. In one of the pictures, she was spotted wearing a top featuring bassist Sid Vicious from S*x Pistols. That punk icon featured a swastika, which made her photo in a negative light as the symbol refers to be associated with the Nazis which made netizens quite furious.
Many took to Twitter to share their opinions on the since-deleted picture.
People need to be very careful because dogwhistles are rarely apparent. A Korean pop star, Chaeyoung, for the band TWICE has wore a shirt containing a swastika and a shirt promoting the conspiracy Q-anon all in the past week. This is no mistake, she is actively dogwhistling. pic.twitter.com/zUzLOIfXje

— Honest Sports Takes (@honestsportsz) March 21, 2023
nobody is accusing chaeyoung of being a neo nazi, but being passive or not caring about wearing such a major hate symbol like that, ESPECIALLY as a public figure is still so insanely harmful. and so wrong like i can't even believe her

— space cowboy (@divahyune) March 21, 2023
This is my point, we know it's not intentional but they are so careful not to get themselves into Korean related scandals but when it comes to other groups whether it's black people or jews there's no caution or care bcos they arent effected by it or relate to it

— 𝙃𝙖𝙣𝙣𝙖𝙝🏹✨ #EndDirectProvision 🇵🇸🇺🇦🇮🇪 (@BlinkSoneOrbit) March 21, 2023
https://twitter.com/nrknation/status/1638162762210721792?s=20
im tired of kpop fans because why am i seeing people trying to cover up the fact that chaeyoung posted a photo of herself wearing a shirt with a swastika on it TODAY pic.twitter.com/xCYlpNaBkT

— cam !! (@iQuackbur) March 21, 2023
Amid the commotion, the young millionaire eventually deleted the post and issued an apology for her insensitive actions. Following her actions, Twice's fandom Once appreciated the idol's actions as she acted quickly to control the difficult situation.
Twice's Chaeyoung Addressed The Swastika Controversy by Issuing An Apology on Instagram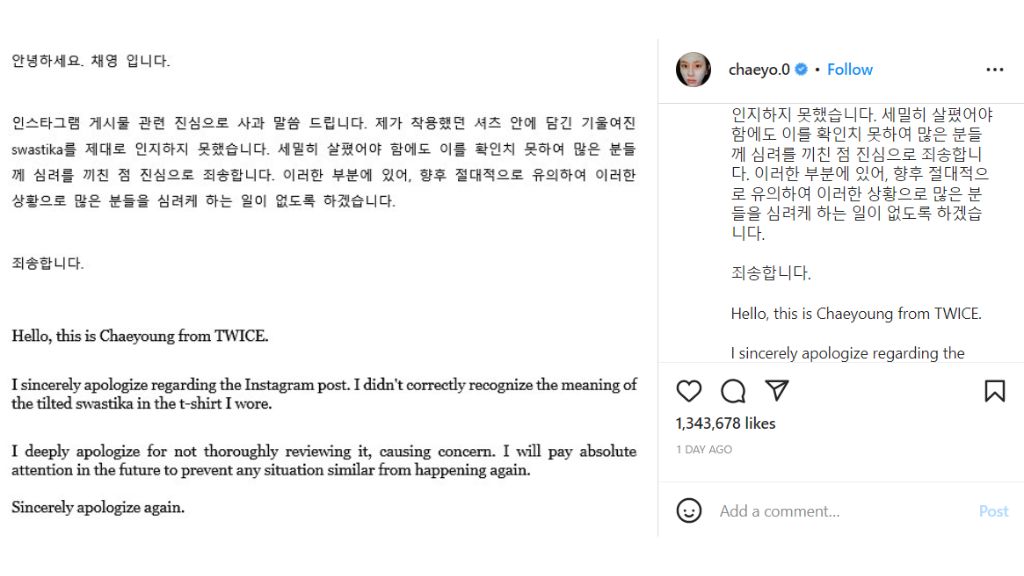 Also Read: Internet Prepares For An Apology As Taylor Swift Encourages Crowd To Stand Up And Applaud BLACKPINK's Lisa For Winning MTV VMA Best K-Pop Award
The sub-vocalist of the K-Pop girl group replaced her former deleted post and issued a public apology by writing,
"I didn't correctly recognize the meaning of the tilted swastika in the T-shirt I wore."
She continued,
"I deeply apologize for not thoroughly reviewing it, causing concern. I will pay absolute attention in the future to prevent any situation similar from happening again. [I] sincerely apologize again."
While her apology has done some damage control to her actions, fans can't help but notice the growing problems in the K-Pop industry, especially regarding the artist's outfits. This is not the first time she has been called out for her clothing choices as she was spotted wearing a controversial QAnon shirt during the girl group's, SET ME FREE performance at the Show! Music Core.
The group has recently released its new album, Ready To Be which is streaming now on Youtube.
Source: Twice Chaeyoung's Instagram