After the release of a few promo shots of Iron Fist Season 2, Netflix has finally released a full length trailer today. The trailer reveals Danny Rand who embraces his new role as a Defender of New York. The creators seem to have addressed the criticisms of Season 1 as the fight sequences look fresh and improved along with a matured Danny Rand.
It looks like the second season will dive deep into the Iron fist mythology. We've already seen the mystical city of K'un-Lun along with the shared history between Danny and his foe Davos in the first season. However, the second season also depicts another Iron Fist, presumably in the present day and though we don't know much about the character's identity yet but we might have just gotten our first look at Marvel Comics' Orson Randall.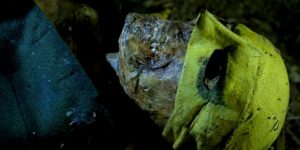 Randall was introduced in 2007 in The Immortal Iron Fist #1 as Danny's predecessor and the protector of K'un-Lun. We all know that the Iron Fist mantle is passed on from one generation to another. Now, Orson was born in the 1800's in K'un-Lun and he wore an iconic yellow mask during World War I. Apart from being a brilliant fighter, he is often recognised as an Iron Fist armed with dual pistols.
In the comics, Orson was the one who found Danny Rand as Danny was looking to make up for all his failures in the past. Orson became Danny's mentor and taught him the ancient history of K'un-Lun and the endless possibilities of the power within him. Furthermore, the trailer shows the body in a tunnel of New York subway city, that adds up to the credence that it is, indeed, Orson Randall.
Season One also showed another Iron Fist in a black and white reel who fought the soldiers in 1948. Many fans went on to speculate that he was Orson Randall but there was no official confirmation to the speculation. We do get to see a yellow mask of Iron Fist briefly in one of the shots, along with the signature green suit. This means, it's possible that this Iron Fist is the same from what we saw in the season one footage.
With Danny struggling to channel the power of Iron Fist by himself, a bit help from someone who has previously held the mantle can really come in handy for our hero. We might get to witness more of Orson in flashbacks or archival footages but one thing seems sure: Season 2 will more or less acknowledge the rich history of Iron Fist mythos and it would be certainly interesting to see Danny finding a new mentor for himself.
Marvel's Iron Fist Season 2 will arrive on September 7 on Netflix.
Thanks for your feedback!